A Tale And A Trail Of Toolboxes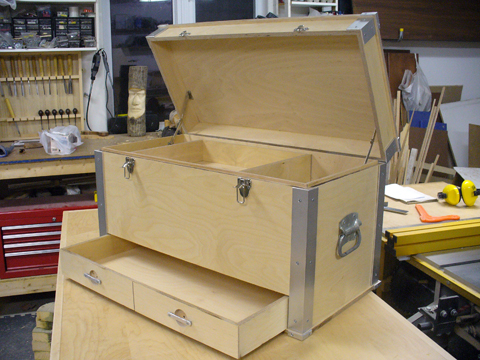 This is a story, or rather a tale and a trail of toolboxes. I mentioned in a recent post that it was a long time since my son and I worked on a project together. A few years ago we decided to build a toolbox to house his growing collection of woodworking tools. He had just recently started in the construction trade and needed something to carry his tools around in. We found the plans for one in ShopNotes Vol. 12 Issue 70 that was suitable in shape and size and we began to build it.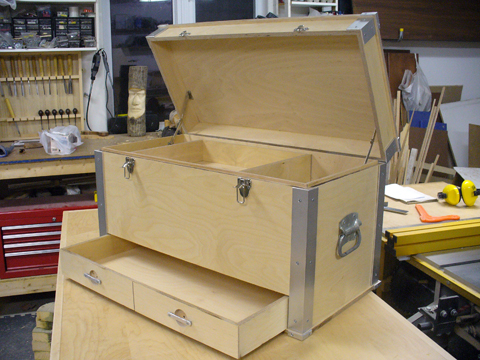 It is approximately 28″ long, 13″ deep, 15″ high and made of Baltic Birch and finished with polyurethane. It has a sliding drawer in the bottom and a sliding tray in the main compartment. It is reinforced with aluminum edging for durability.
We had great fun working on this but shortly after starting it he headed out West to seek his fame and fortune. After a couple of years of the pieces sitting around waiting for his return it became apparent that he had found his 'home' and would not be returning any time soon. (Yes, I came to terms with this a long time ago. LOL!) A couple of years ago he was slated to come home for Christmas so I finished the project, tied a big bow around it and gave it to him on Christmas morning. It made for a few laughs. It also made a great case for shipping home his other gifts too. 🙂
Here's a couple of more photos of the finished box: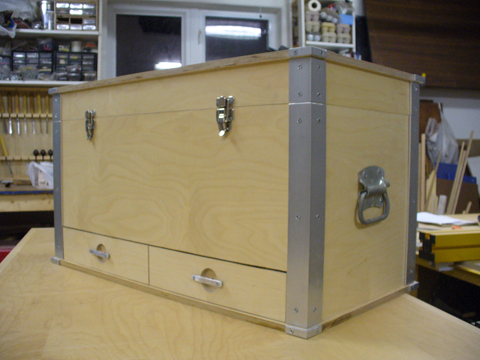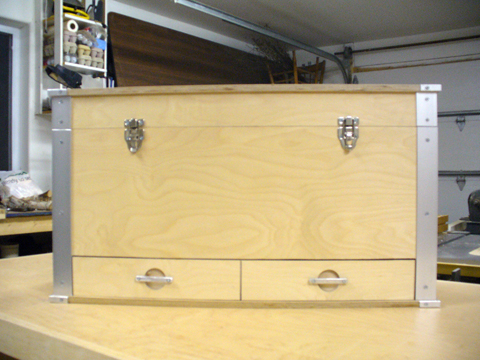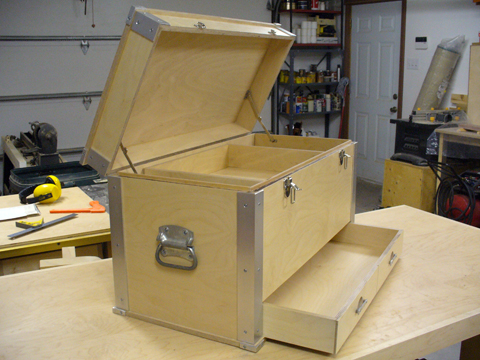 When I visited him a few weeks ago I thought it rather neat that while looking for a couple of tools in his 16 foot tool trailer that he now stores his tools in I saw that this toolbox was in there, still in use. 🙂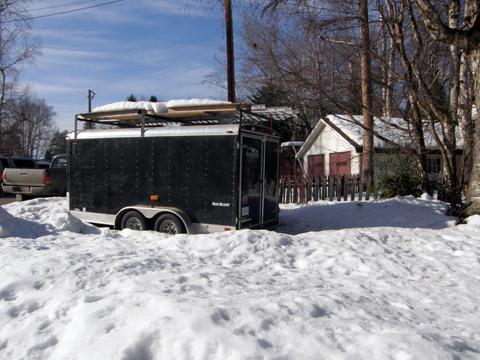 I was thinking while writing this that this is sort of like the 'full circle' thing with the beginning and the end, from a small wooden toolbox to a tool trailer (though I don't believe for one minute that the tool trailer is anywhere near the end of his woodworking journey, a fleet of them, maybe :)). It was then that I remembered this: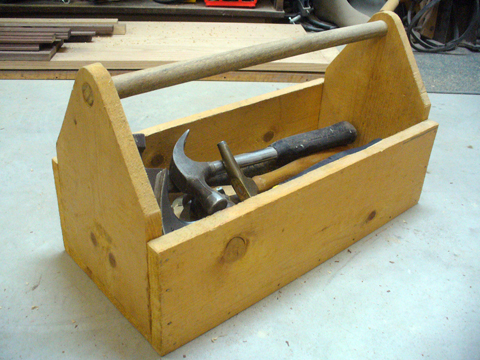 This was one of the first projects that we ever worked on together, probably when he was 6, 7 or 8 years old. It carried his hammer, a hand drill, nails, etc. that he used to build forts and go-karts. It now resides on a shelf of one of my benches and holds a variety of old hammers. Oh, how far we've come. 🙂
Back to the shop…