Cape Breton Highlands Park Event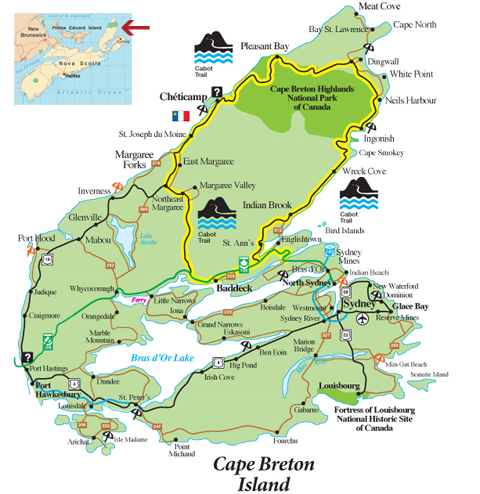 Benjie's Lake Trail – GC1V4CV
Benjie's Lake Trail is a 3km (1.9mi) trail that leads to, (you guessed it!), Benjie's Lake. It takes you through wet barrens and evergreen forests. It is fairly flat with boardwalks on portions of it.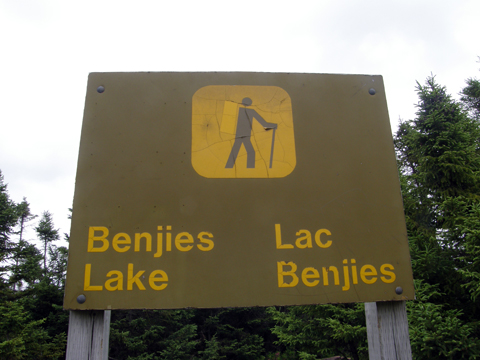 This was a much easier trail than, and certainly welcomed after, L'Acadien. It was an enjoyable stroll through the woods. At the end there is a bench overlooking the lake where you can sit and enjoy the view.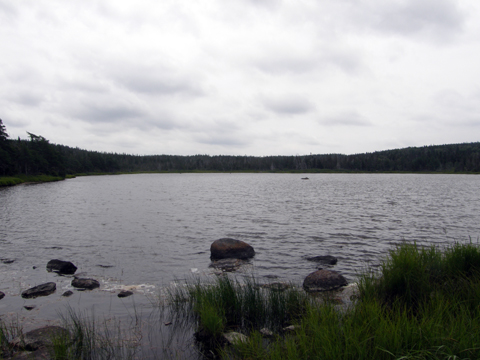 MacIntosh Brook Trail – GC1V4D4
The next trail and cache in the series was the MacIntosh Brook Trail. This trail was one of the shortest at 1.7kms (1.1mi) with only a small incline of 30 – 65m (100 – 215 ft).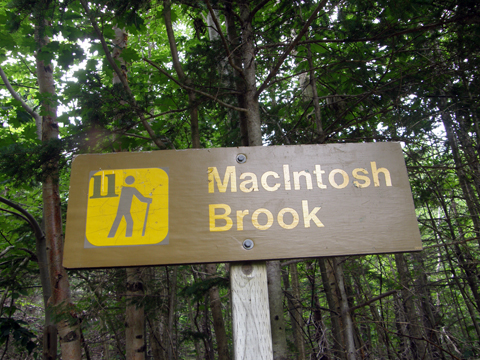 The tree covered trail follows MacIntosh Brook up one side to a beautiful waterfall and then returns on the other side of the brook while crossing a few bridges along the way.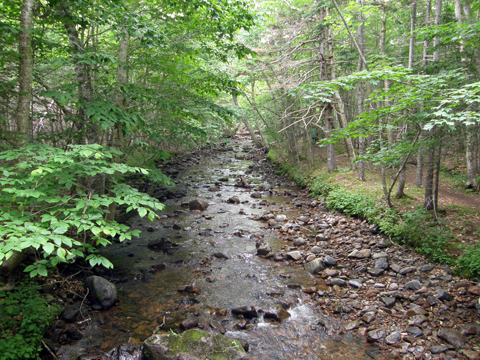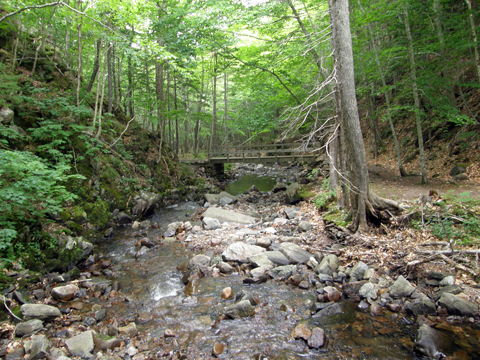 Again, another great trail meandering through an old-growth hardwood forest!
Jack Pine Trail – GC1V4D6
Next on our list was the Jack Pine Trail which was a favorite! The trail is 2.3kms (1.4mi) long with a rise of 50m (165 ft) and offers an excellent introduction to the 'elusive' Jack Pines.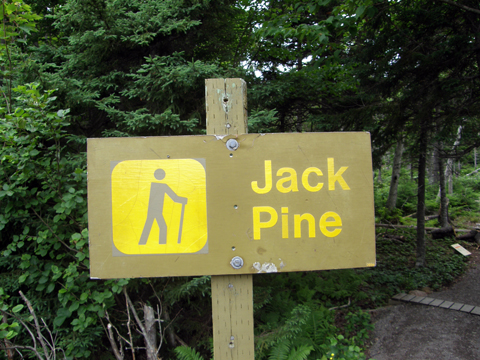 We mentioned in a a previous post that the Dingle in Halifax was one of the few places in Nova Scotia where you could find them. Well, here is another place and boy, oh boy, is there a lot of them! Walking through the stands of Jack Pines was a real thrill.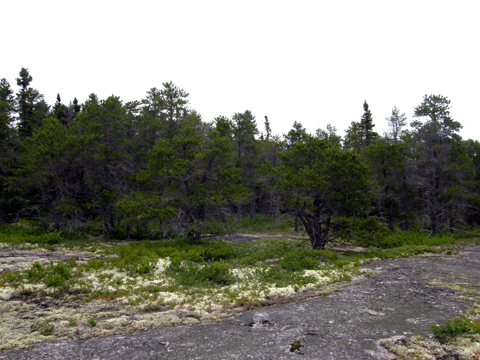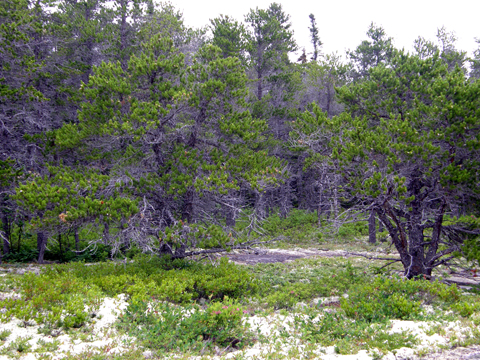 Freshwater Lake Trail – GC1V4D7
The final trail and cache of the series and the day (wheww! Gettin' tired! 🙂 ) was the Freshwater Lake Trail. You access this trail from right hand side of the Ingonish Beach parking lot. It's a fairly level trail of only 1.7kms (1.1mi) that skirts Freshwater Lake.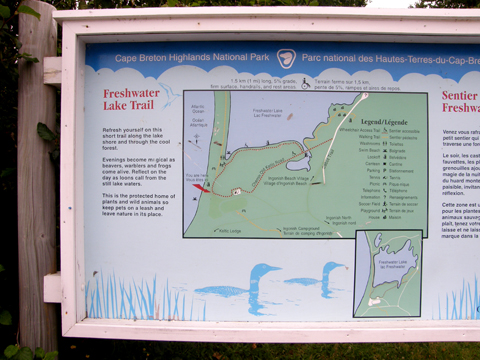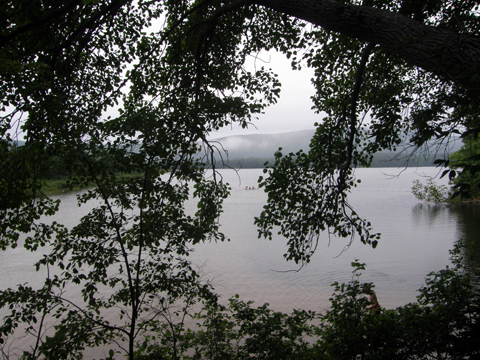 As the fog was rolling in it reminded us of pictures we seen of Loch Ness in Scotland and we expected the Monster to rise it's head at any time 🙂 .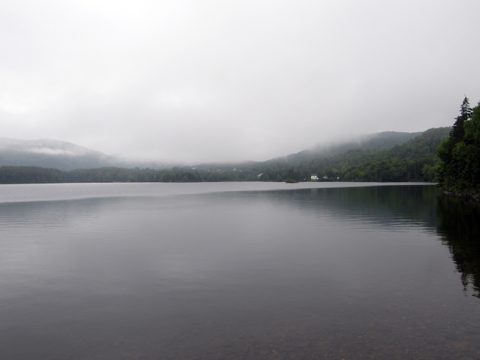 With this cache we were done… finally! We were on the road for about seven and a half hours (minus a half-hour lunch break) and we hiked over 20 kms!
To claim a Geocoin, you must bring your completed passport (including answers) to the Chéticamp or Ingonish Visitor Centre. Since we were near the Ingonish Visitor Center we stopped in there to claim our prize: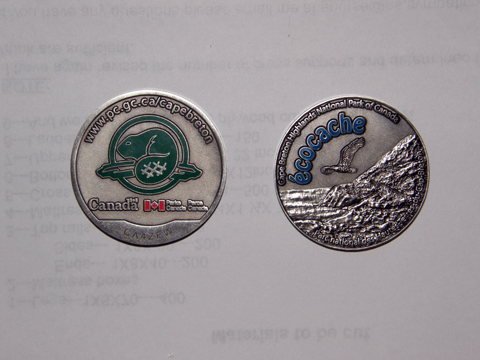 Aren't they beautiful?! 🙂
The event closed with a seafood barbeque dinner at the Atlantic Restaurant at Keltic Lodge. Unfortunately we weren't able to attend this but from what we heard it was great.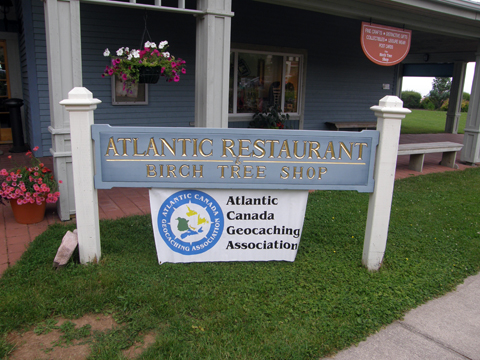 We had a wonderful time! And how could we not? We were in beautiful Cape Breton in the Cape Breton Highlands National Park and we were Geocaching. This was a fantastic day and an even more fantastic event!
Thanks to everyone that was involved in creating the EcoCache Geocache Challenge. It truly is a winner!
Keep on cachin'!
This post was originally posted on our now defunct website, Geocaching Online