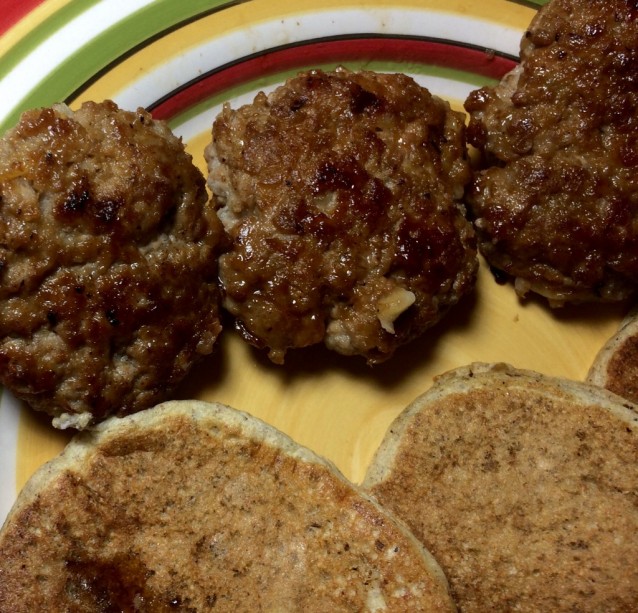 ---
I am not a lover of sausages but since today is Shrove Tuesday and since we always have sausages with our pancakes I felt obliged to cook them.  I am pretty fussy about which sausages I buy so when I went to the grocery store today they didn't have any apple breakfast sausages, so I thought "why not make our own?"  I bought the ground pork and headed home.  We started with the ground pork adding the spices we like and then added the apple.  the maple syrup was a no-brainer.  Well needless to say I am a convert.  These are the best breakfast sausage patties I have ever eaten.  I borrowed the name from something called "pigs in blankets" which was a sausage wrapped in a pastry and the tune "shoofly pie and apple pan dowdy".
Ingredients
1/2 medium onion, chopped
1 apple, peeled and chopped
1 lb ground pork
1/2 teas dried sage
1 teas ground fennel
3/4 teas salt
1/4 teas pepper
1 tbls maple syrup
oil for frying
Directions
In a small food processor process the onion and apple.  It should be fairly small pieces but not pureed.  Heat a bit of oil in a frying pan and add the onion apple mixture.  Saute until soft and a bit brown.  Let cool a bit.
Put the ground pork in a large bowl and add the spices, maple syrup and onion apple mixture.  Mix well.
Using a 1/4 cup of mixture (or 55g) shape into 9 patties and pan fry or freeze.
Serve with your favourite pancakes or eggs or on biscuits.

Print This Recipe