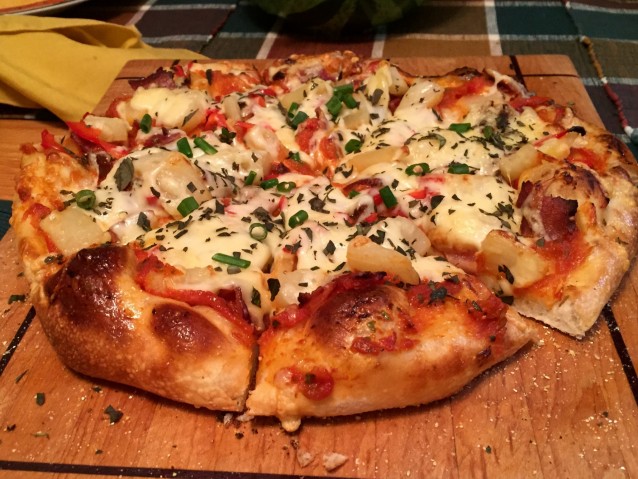 Ingredients
1 pizza dough
1/4 cup tomato sauce
3/4 cup pineapple chunks or tidbits, drained
3 oz back bacon or other good quality ham
3 tbls red pepper, diced
3 tbls broccoli flowerets, chopped
1 cup Jarlsberg cheese, grated
1 tbls sun dried tomatoes, soaked in hot water
chili infused oil or olive oil
fresh oregano, chopped
Directions
Place your pizza stone in a 550 F oven for at least 1 hour before you are ready to bake your pizza.
Cook the bacon in a skillet, drain on paper towel and cut into 1″ pieces.  If using ham, just cut into 1″ pieces.
Remove the sun dried tomatoes from the soaking liquid and chop into a small dice.
When your pizza stone is ready shape the dough into a round shape slightly smaller than your pizza stone.  Place it on a cornmeal coated pizza peel.
Working quickly so the dough doesn't stick to the peel, spread the dough with the sauce then add the bacon, pineapple, red pepper, broccoli, sun dried tomatoes and cheese.
Slide the pizza from the peel, using your free hand to gently pull the front of the pizza, to the hot pizza stone.  Set timer for 7 minutes.
Lift the crust to check the bottom and see if it is done. Add another minute if not.
When pizza is done remove from the oven with the peel and slide onto a cutting board.
Using a pastry brush spread oil on the crust.  Sprinkle with the fresh oregano.
Using a pizza wheel cutter cut into wedges and enjoy.
Let the pizza stone cool in the oven.

Print This Recipe