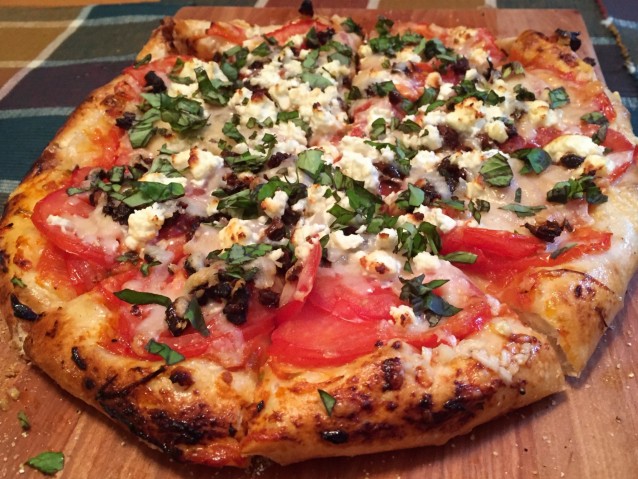 We make a Tomato Basil Tart with puff pastry as soon as our garden tomatoes are ripe.  One early fall evening we had lots of tomatoes and no puff pastry but we did have pizza dough in the freezer so the Tomato Basil Pizza was born.  It is a toss up which one we like better but either way it is a delicious way to enjoy your garden fresh tomatoes.
Ingredients
1 pizza dough
1 lb tomatoes
1 teas salt
2 cloves garlic, crushed
pinch of salt
2 tbls olive oil
1 cup grated Parmesan cheese
1/2 cup crumbled feta cheese
fresh basil, shredded
chili infused oil or olive oil
Directions
Slice tomatoes thin and place on paper towels and sprinkle with salt.  Cover with more towels and weigh down with something heavy like a cutting board.  Leave for at least 1 hour.  This will remove excess moisture from the tomatoes and prevent soggy pizza crust.
Place pizza stone in the oven and preheat to 550F for at least 30 minutes.
Combine the crushed garlic, a pinch of salt and olive oil in a small dish and let steep.
Stretch dough and place on a cornmeal coated pizza peel.
Sprinkle with the Parmesan cheese.
Add the tomatoes over the Parmesan overlapping if necessary.
Brush the garlic and olive oil over the tomatoes.
Add the crumbled feta.
Slide pizza from the peel to the preheated pizza stone and bake for 7 minutes.  Lift the crust to check to see if it is done.  if not add another minute.
Remove from oven with peel and slide onto serving board.  Sprinkle with shredded basil.  Brush oil on the outer crust.
Using a pizza wheel cutter cut into wedges and enjoy.
Let the pizza stone cool in the oven.
PS, the parm is very important in this recipe but if you don't have feta you can sub mozza. It's equally as good, in fact, some say even better 😉

Print This Recipe