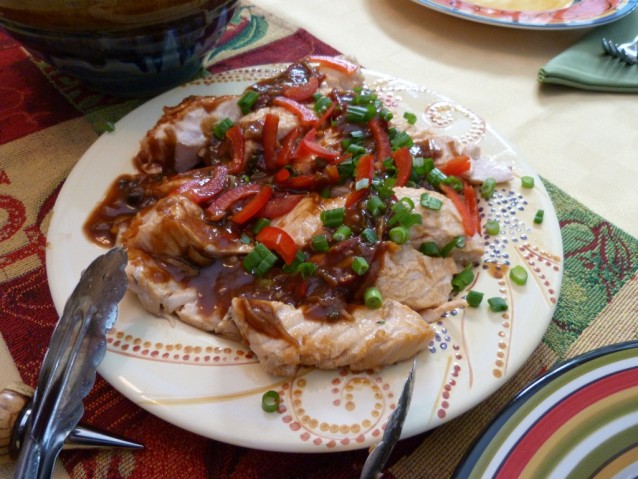 My friends and I love to eat new and exciting food and to spend time together so we get together and cook.  It is a dinner party where all of us participate in the preparation of the meal while we sip wine and chat.  I chose a Thai theme and picked this recipe from Simply Thai Cooking by Wandee Young and Byron Ayanoglu.  I have always found it hard to find a sauce for fish which did not overpower the fish.  This sauce is a wonderful compliment to salmon as I'm sure it would be for any large flake fish.
Ingredients
1/4 cup concentrated tamarind paste
1 tbls tamari or soya sauce
1 tbls fish sauce
2 tbls sugar
1 inch gingerroot
1 teas garlic, chopped
1 tbls vegetable oil (grapeseed oil or peanut oil)
2 green onions, white part cut into 1/4″ pieces, green part 1″ pieces
1/4 red pepper, cut into thin strips
2 tbls vegetable oil (grapeseed oil or peanut oil)
1 lb salmon filet or other large flake fish
fresh cilantro leaves
Directions
Heat oven to 400 F.
Mix tamarind, tamari, fish sauce, sugar together in a small bowl.
Peel gingerroot and slice into thin rounds, then chop thinly into shreds.  Place in a stainer and run under cold water.  Reserve.
Heat 1 tbls oil in a small pot over medium high heat and add the chopped garlic.  Stir fry for 15 seconds then add the tamarind mixture stirring to cook for 1 minute.  Add reserved ginger shreds and white onion pieces cooking another minute.  Remove from heat and add half the red pepper strips.  Cover the pot to keep warm while you prepare the salmon.
Heat an oven safe non stick skillet over high heat.  When skillet is hot add 2 tbls oil and quickly add the salmon skin side down.  Lift the edge of the salmon after a minute and see if the skin has shrunk and crisped.  Flip the salmon and with tongs peel off the skin quickly.  Once the skin has been removed and the other side has been seared flip it back over.  Place in the preheated oven for 8 minutes.
Remove from oven to a serving platter and drizzle over the prepared sauce.  Sprinkle with the cilantro leaves and the green parts of the onions and the remainder of the red pepper.
Serve this dish with rice and steamed vegetables or another equally interesting Thai dish.
Caution: When you remove the skillet from the oven place an oven mitt over the handle and leave it there.  I have burnt my hand more than once on a hot skillet handle.
The Simply Thai cookbook explains how to use dried tamarind in this recipe, soaking it and pushing through a sieve.  I have done this in the past but felt that for expediency I would use the concentrated tamarind paste.

Print This Recipe