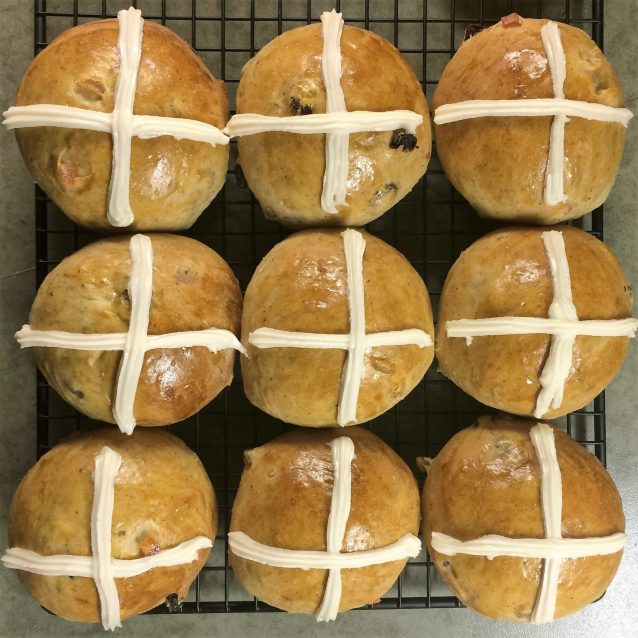 My Mom made Hot Cross Buns every Easter which was always a special treat.  This is her recipe that she clipped from The Joy of Baking calendar in 1987.  Over the years she made notations in the margin of the changes she made along the way.
Ingredients
4 cups flour
1-8g envelope of quick rise yeast
1/4 cup granulated sugar
1/2 teas salt
2 teas ground cinnamon
1/4 teas ground cloves
1/4 teas ground allspice
1/4 teas ground nutmeg
1/4 teas ground mace
3/4 cup currants or raisins
1/2 cup candied peel or zest of 2 lemons
1/4 cup water
1 cup milk
1/4 cup butter or margarine
1 egg
1 egg yolk
1 tbls water
1 cup icing sugar
1-2 tbls lemon juice or milk
Directions
Measure 1 cup of flour and put is aside.
Measure 3 cups of flour into the bowl of a stand mixer adding the sugar, salt, cinnamon, allspice, nutmeg and mace, currants or raisins, candied peel or lemon zest. With the dough hook mix until combined.
Heat the water, milk and butter or margarine until hot to the touch (125 F).  Add to flour mixture in the bowl of the stand mixer.  Mix to combine.  Mix in the egg.  Stir in enough of the reserved flour to make a soft dough that does not stick to the bowl.  Let the mixer knead the dough for about 5 minutes.
Divide the dough into 18 equal pieces(about 65 g each)and shape into a smooth ball pinching at the bottom to seal.
Place seam side down on a greased baking sheet about 2″ apart.  Cover the buns with a sheet of greased wax paper.  Place the baking sheet over a shallow pan half filled with boiling water, cover with a tea towel and let rise 40 minutes.
Mix egg yolk with 1 tbls water and brush over surface of buns.
Bake at 375 F for 10-12 minutes. Cool on a wire rack
Mix icing sugar and lemon juice or milk.  Pipe frosting in the form of a cross on each bun.

Print This Recipe