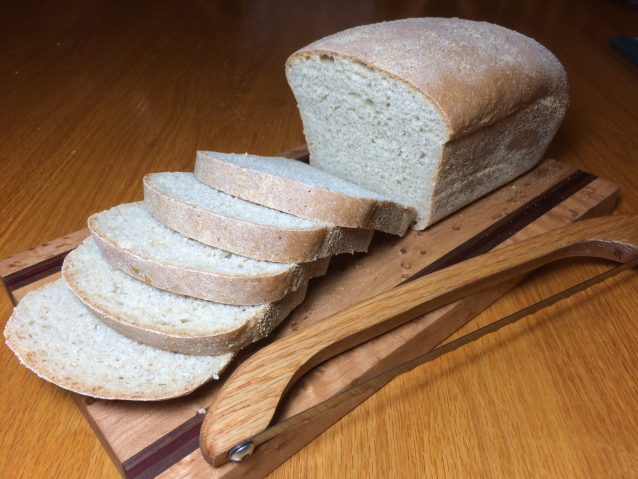 I clipped this recipe from a magazine over 25 years ago.  It is a small bread and not meant for sandwiches but comes together quickly as it only needs to be risen once.  It is a great homemade replacement for english muffins and is great with eggs for breakfast or just for toast and jam.
Ingredients
5-6 cups unbleached white flour
1 tbls sugar
2 teas salt
1/4 teas baking soda
2 pkg yeast or 4 1/2 teas
2 cups milk, scalded(see note)
1/2 cup water
cornmeal
Directions
Measure 4 cups of the flour into the bowl of a stand mixer.  Add the sugar, salt, baking soda and yeast.  Using the paddle combine on low speed.
Place the milk and the water in a large glass measure and heat to 125F (quite warm) in the microwave or in a saucepan on the stove top.
Add the milk to the flour mixture and mix at low speed.
Change to the dough hook and add the remaining 1-2 cups of flour with the motor running.  Adjust speed to compensate for the load on the mixer.  Mix 2-3 minutes.  The dough should be stiff.
Grease and dust with cornmeal two 8 1/2 X 4 1/2 pans.  Cut dough into 2 pieces and put in pans sprinkling the tops of the loaves with cornmeal.  Cover with a tea towel and let rise in a warm place for 30 minutes.
Preheat oven to 400 F (375 F Convection)  Bake bread 30-45 minutes.
Dump from pans and cool on wire racks.
Note:  I use evaporated milk to make bread as you are not required to "scald" evaporated milk.  I also use the full fat evaporated milk and dilute it 50/50 with water.  So in this recipe I use 1 cup of evaporated milk and 1 cup of water to replace 2 cups of milk.   If you use the 1% or 2% evaporated milk DO NOT dilute.  So you would use 2 cups 1% or 2% evaporated milk.
Also you can substitute 1  3/4 cups unsweetened almond milk and 3 tbls olive oil for the 2 cups of milk.

Print This Recipe