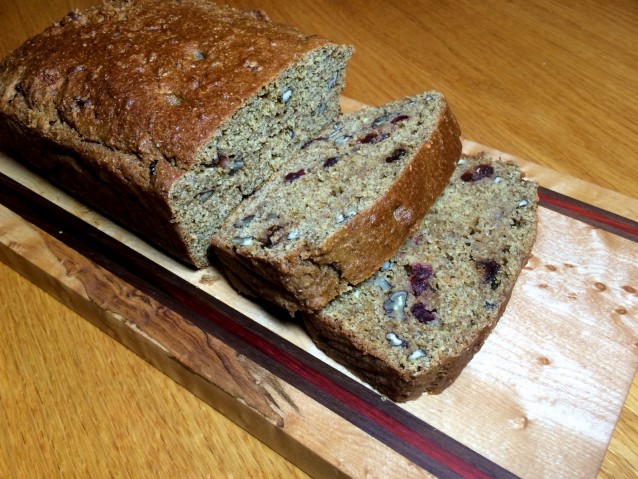 I've made this quick bread twice in a week.  It is hearty, tasty and a not so sweet accompaniment for your morning coffee.  The original recipe called for whole wheat cake and pastry flour and since I did not have any I used a bit less flour and added 3 tbls cornstarch.  If you plan on using Greek yogurt you will have to use 1/4 cup Greek yogurt and 1/4 cup water.  This loaf is better the second and third day….if it lasts that long.
Ingredients
1 1/4 cups whole wheat flour plus 3 tbls cornstarch
1 cup unbleached all purpose flour
1/2 cup coconut sugar or sugar of your choice
2 teas baking powder
1 teas baking soda
1/2 teas salt
1/2 teas ground cardamom
1/2 teas ground cinnamon
1/2 cup dried cranberries
1/2 cup pecans, chopped
2 small oranges
2 large eggs
1/2 cup yogurt or any milk
3 tbls olive oil
2 teas vanilla extract
Directions
Grease a 9 x 5 loaf pan and line with parchment paper.  Allow the paper to overhang to aid in removing loaf from the pan.
Preheat oven to 350 F
In a large bowl whisk together the flours, cornstarch, sugar, baking powder, baking soda, salt, cardamon and cinnamon.  Stir in the dried cranberries and the nuts.
Zest the two oranges and add the zest to the flour mixture.  Peel and seed the oranges and place the pulp in a food processor and puree.  Add the eggs, yogurt, oil and vanilla and pulse to combine.  Pour this mixture into a measuring cup and add enough water to equal 2 cups.
Pour over the dry ingredients and fold until just combined.  The batter will be thick.
Spread batter in prepared pan and bake 50 minutes.  Check on it after 40 minutes and if a skewer comes out clean it is done.  If not put it back in for another 5-10 minutes.  Let loaf cool in the pan for 15 minutes.  Using the parchment paper lift the loaf out of the pan, remove paper and cool completely.

Print This Recipe