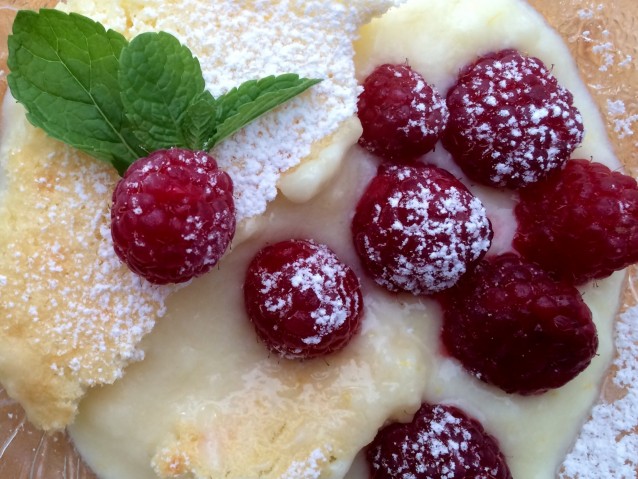 We were having a spicy Indian meal and needed a light cool dessert.  This recipe is a cross between a cobbler and a pudding.  We added raspberries but any seasonal fruit would be lovely.  I had 1 rindless lemon left over from this recipe so I sliced it into a  pitcher of water and to my surprise the water took on the lovely lemon flavour but did not present the bitterness of the rind.
Ingredients
2 eggs, separated
2 tbls butter, softened
1/2 cup sugar
3 tbls flour
1 3/4 cups milk
1/4 cup lemon juice
3 tbls grated lemon peel (about 2 lemons)
raspberries, strawberries, blackberries or other ripe fruit
icing sugar
Directions
In the bowl of a stand mixer beat egg whites until soft peaks form.  Remove to a small bowl.
In the bowl of the stand mixer beat the butter with the sugar until well blended.  Add the egg yolks until blended.  At low speed beat in the flour.  Add the milk, lemon juice and peel.  This mixture will not be smooth.
Fold in the egg whites with a wire whisk or a spatula.
Heat oven to 350 F.
Boil a kettle with about 4 cups of water.
Turn the mixture into a shallow 8″-9″ baking dish (no need to grease it).  Set this dish in a pan large enough to hold the dish and about 1″ of boiling water.
Bake 45 minutes or until golden on top and a knife inserted into the centre comes out clean.
Let stand to cool.
Scoop into bowls, arrange fruit and sprinkle with icing sugar.
Notes:  Room Temperature-When baking with eggs they should be at room temperature.  Also, butter is always easier to work with if it is at room temperature as well.  Lemons should be at room temperature too as they will yield more juice that way.

Print This Recipe