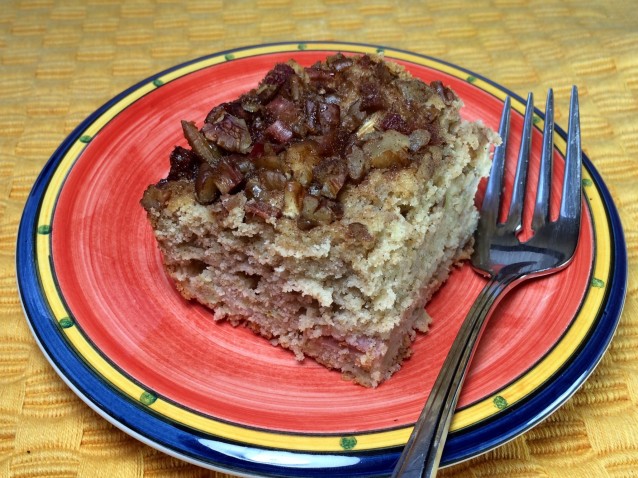 When rhubarb season comes we get creative with the crimson stalks.  This recipe is an adaptation of an apple coffee cake. This is a moist cake that still has that wonderful tart bite of rhubarb.
Cake
1/4 cup butter
1/2 cup sugar
2 eggs
1 cup unbleached white flour
1/2 cup spelt flour
1 teas baking powder
1/2 teas salt
1 teas cinnamon
1/4 cup yogurt
1 large apple peeled and grated
2 large stalks rhubarb, chopped(2 to 2 1/2 cups)
Crumble
3 tbls brown sugar
1/2 cup chopped pecans
1/2 teas cinnamon
1/2 teas nutmeg
1/4 stalk rhubarb, diced (1/3 to 1/2 cup)
Directions
Preheat oven to 350F and grease 8 X 8 baking pan.
Prepare the crumble in a small bowl.
Cream the butter and the sugar in the bowl of a stand mixer.  Add the eggs one at a time beating to combine.
In a separate bowl combine the flours, baking powder, salt and cinnamon and add alternately with the yogurt to the mixing bowl of the stand mixer.  This mixture will be a thick batter.
Add the grated apple and the rhubarb to the mixer and mix until just incorporated.  Turn into the baking pan.
Spread the crumble mixture over the top of the batter and bake 40-50 minutes.
Remove your eggs and butter from the fridge and let come to room temperature if time allows.
This coffee cake can be made entirely with apples in the fall when they are in season.  Use 3 large apples, peeled and grated.
If you do not have spelt flour you can substitute whole wheat flour, barley flour or any other flour you have on hand.

Print This Recipe