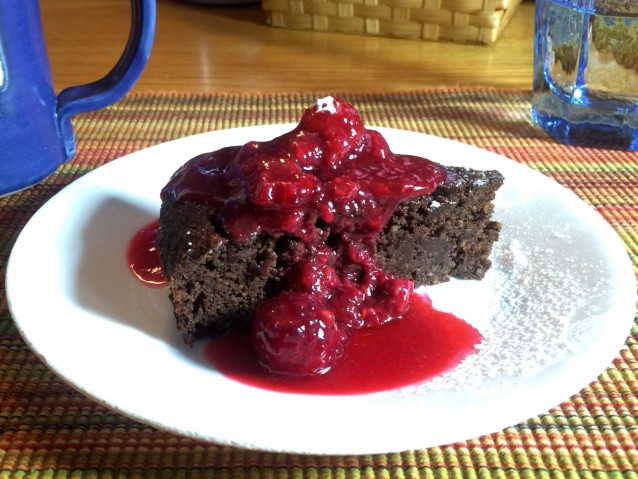 We were having friends over for lunch and I had to come up with a dessert with no gluten and no dairy.  I tore this from a magazine in the dentist's office (that's what those magazines are there for :)).  This is a very unusual cake as it uses dates as the sweetener, ground almonds instead of flour and coffee in place of milk.  It looked amazing on the plate with the raspberry sauce and tasted divine.
Cake
1 cup pitted dates
1 cup boiling water
1/2 cup cocoa powder
1/2 cup brewed coffee
1 cup almond flour
1/2 cup potato starch
1 teas cinnamon
1/2 teas baking soda
1/4 teas salt
2 large eggs, seperated
1/3 cup oil, coconut, olive or other oil of choice
1 teas chocolate extract
1 teas vanilla extract
Sauce
1 cup raspberries
1 tbls honey
2 teas lemon juice
2 tbls water
Extra raspberries to decorate plate
Icing sugar to sprinkle
Cake Directions
Heat oven to 350F.  Grease a 9″ pan and line the bottom with parchment paper.
Put dates and 1 cup boiling water into the glass jar of a blender or food processor.  Let soak for about 15 minutes.  Blend the dates with the soaking water until smooth.  Remove cover to cool.
Combine cocoa powder and hot coffee in a large bowl.  Set aside to cool.
Stir the cooled date paste, egg yolks, oil and vanilla and chocolate extract into the cooled coffee mixture.
Beat the egg whites in the bowl of a stand mixer until soft peaks form.  Remove to a small bowl.
In the bowl of the stand mixer add the almond flour,  potato starch, cinnamon, baking soda and salt.  Give it a stir.
Add the cocoa date mixture to the bowl of the stand mixer with the flour mixture and beat until combined.
Fold in the egg whites with a spatula or a whisk.
Pour into prepared pan.  Bake for 33 minutes.  Remove from oven and let rest 10 minutes or so.  Run a knife around the edge of the pan and dump the cake onto a cooling rack.  Peel the parchment paper off the bottom and flip the cake back over.
Raspberry Coulis
Combine raspberries, honey and lemon juice with 2 tbls water in a blender or food processor and puree.
Strain through a fine mesh strainer to remove seeds.
Serve the cake on individual plates with the raspberry coulis, fresh raspberries and a sprinkle of icing sugar.

Print This Recipe