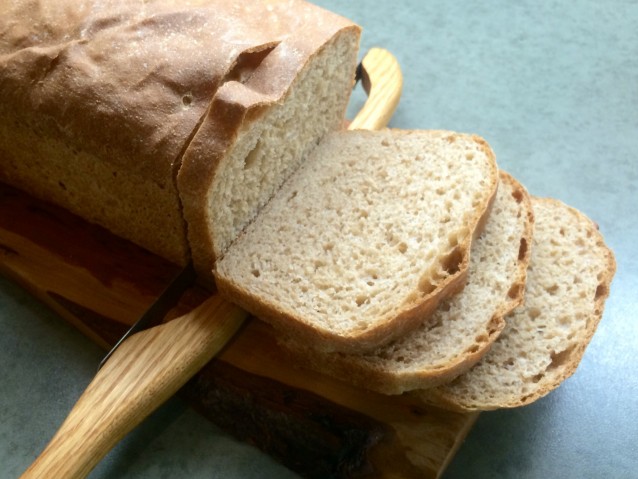 We really like this bread.  It is always a challenge to bake with low gluten flours but the results are worth it.  We like the taste of this bread especially warm from the oven with butter and molasses.  There is an ongoing dispute in our house whether the molasses or the butter goes on the bread first.  I always put the molasses on first and the butter over top.  The molasses sinks into the bread and the butter seals it in.  My spouse puts the butter on first and the molasses on top.  I have always found that with the latter method the molasses would then slide and drip…..silly if you ask me.  I guess the decision is up to you but either way it tastes so good.
Ingredients
1/2 cup warm water
2 teas sugar or honey
1 pkg active dry yeast (2 1/4 teas)
1/4 cup olive oil
1/4 cup honey
3 1/2 teas salt
1 1/2 cups milk (see note)
1 1/2 cups warm water
1 tbls lemon juice (optional)
1 pkg quick rise active dry yeast
1 teas xanthan gum (optional)
2 cups unbleached white flour
6-8 cups spelt flour
Notes
Milk-If you use fresh cow's milk it will have to be scalded first.  If you use canned milk it does not have to be scalded but needs to be mixed 50/50 with water so  you would use 3/4 cup canned milk and 3/4 cup water plus the additional 1 1/2 cups of water in the recipe.  You can also use almond milk, rice milk or soya milk but I usually reduce the amount to 1 cup and use 2 cups of water.
Flour-I use Speerville Unbleached White Flour and Speerville Light Spelt Flour.
Lemon Juice-It adds lightness and volume and is known as a dough improver.
Xanthan Gum-It improves the texture of low gluten breads but is expensive to buy so it you don't plan to use it in other low gluten or gluten free baking I would not buy it.
Yeast-Why the two types of yeast?  It was all I had on hand the first time I made the bread and it seems to work so I continue to make it with both types of yeast.
Kneading-Yes, you have to knead the dough for 10 minutes.  Kneading makes a dough elastic and since spelt flour is low gluten it needs to be kneaded for a full 10 minutes.
Directions
Combine 1/2 cup warm water, sugar or honey and yeast and let bloom 10 minutes.
Combine oil, honey, salt, milk and water and lemon juice (if using) in a large bowl.  If mixture is still cool heat in microwave 1-2 minutes.
Combine the 2 cups of unbleached white flour and 6 cups of the spelt flour in a bowl with the quick rise yeast and the xanthan gum (if using).
Add the bloomed yeast to the liquid mixture in the large bowl.  Dump in all of the flour from the other bowl and combine with a wooden spatula mixing until the flour is incorporated.  This mixture should be loose and sticky.
At this point you will still have 2 cups of spelt flour which has not been added to the dough.  I put some of the reserved flour on a work surface and dump the dough out of the bowl adding additional flour as needed.  Depending on the brand of flour used and the weather it may take more than the 2 cups of flour.
Knead the dough 10 minutes until it is satiny.
Place in a greased bowl rolling the dough ball to coat with oil, cover with plastic wrap directly on the surface of the dough and drape a towel over the bowl.  Raise in a warm location until doubled (2 hours).
Punch down.  Grease the pans.  Divide the dough into two 2lb loaves and the remaining 1 lb of dough can be made into rolls.  For pan rolls I use 1.5 oz each and for burger buns I use 3 oz each.  Let rise again until it has doubled.  Bake bread at 350 F for 30 minutes.  Bake burger buns at 350 F for 15 minutes.  Remove from pan and cool on wire racks.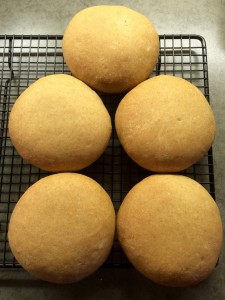 Print This Recipe