Post Tagged with: "rice"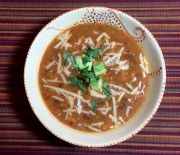 This is a filling soup with flavours of Mexico and the Southwest.  Corn flour can be found as masa harina or maseca at the grocery store.  We use corn masa (Maseca) for corn tortillas so […]
Sometimes rice can get a little boring but this rice dish is anything but boring.  It has colour and texture and tastes great.
I was visiting my friend, Kathy,  in Bridgewater and she had made us a salad for lunch.  It was delicious and to my surprise it had kale in it.  I have used the small tender […]