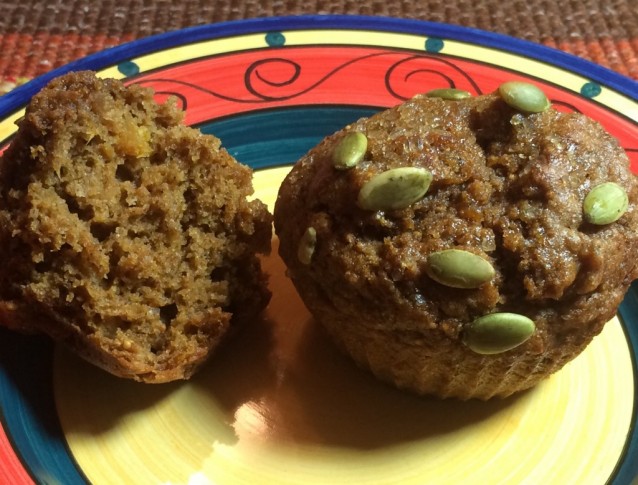 These muffins combine the spices of pumpkin pie into a moist muffin with figs.  Muffins are the perfect take along food.  We like to have some muffins in the freezer for when unexpected company drops in for coffee.
Ingredients
1 cup whole wheat flour
1 cup unbleached all-purpose flour
1/2 cup dried figs, chopped
1 teas baking soda
1 teas ground cardamom
1 teas ground cinnamon
1 teas ground ginger
1/4 teas ground cloves
2 eggs
1 cup cooked mashed pumpkin
1/3 cup palm sugar
1/4 cup molasses
1/4 cup olive oil
1 teas vanilla extract
apprx 1/2 cup milk, soured with 2 teas vinegar (See Note)
pumpkin seeds
coarse sugar
Directions
Put the 1/2 cup chopped figs in a glass measuring cup and add boiling water to barely cover.
Combine the flours, soda and the spices in another bowl.
In another large bowl while whisking the eggs add the pumpkin, sugar, molasses, oil and vanilla.
Remove the figs from the measuring cup with a slotted spoon and dropping them into the flour mixture.  Toss with the flour to coat.  Reserve the liquid in the measuring cup.
NOTE: Add to the measuring cup with the fig soaking liquid enough milk to make 3/4 cup.  This will be approximately 1/2 cup of milk as noted in the recipe.  Add the 2 teas of vinegar to sour.
Alternately fold the flour mixture and milk mixture to the pumpkin mixture.
Put in greased muffin tins ( or silicone or paper muffin liners).
Sprinkle the tops of the muffins with the pumpkin seeds and the coarse sugar.
Bake at 375 F for 20-25 minutes.
These muffins would be equally good with dates, prunes or even raisins.  I always soak dried fruit before adding it to muffins.  It just makes for a moister muffin.

Print This Recipe