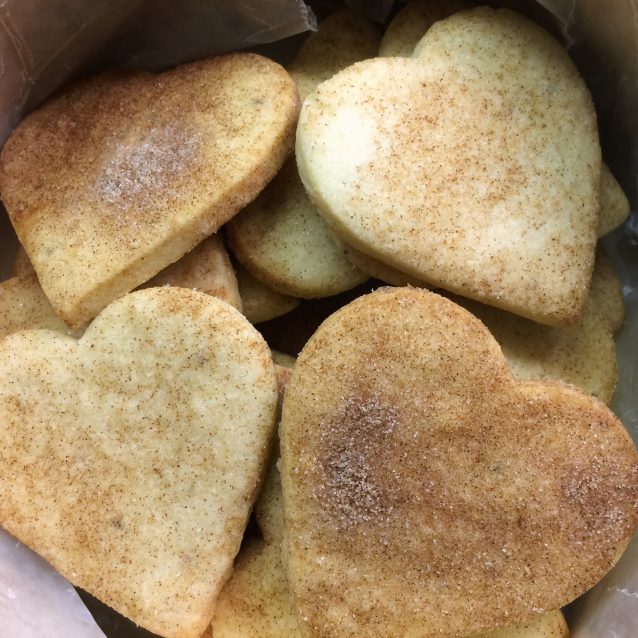 Posted in Cookies, North American
Biscochitos are the Official State Cookie of New Mexico.  After visiting New Mexico a few times we thought we needed a taste of those delicious little cookies at home here in Nova Scotia.    They have a licorice flavour thanks to the anise seed and everyone loves them at first bite.
Ingredients
1 1/2 cups lard, chilled
1 cup sugar
2 eggs
4 cups flour
2 teas anise seed, ground
2 teas baking powder
1/2 teas salt
2 tbls vodka
2 teas anise extract
1 teas brandy extract
3 tbls sugar
1 teas cinnamon
Directions
Stir flour, ground anise, baking powder and salt in a small bowl.
Beat lard and sugar in the bowl of a stand mixer until fluffy.  Add eggs and beat until very fluffy.
Add the vodka, anise and brandy extract to the creamed mixture.
Add the flour mixture to the creamed mixture.  Mix thoroughly to make a stiff dough.
Divide in half and place each half on a large piece of plastic wrap.  Flatten to about 1″ thick and refrigerate until chilled (several hours or overnight)
Combine 3 tbls sugar and 1 teas cinnamon on a plate or shallow bowl.
Roll out each piece of dough in the plastic wrap to 1/4″ thickness.  Using a flour dusted cookie cutter, cut into 3″ rounds and dip in cinnamon sugar (one side only).
Place on ungreased baking sheet and bake at 350 F for 10-12 minutes.
Notes
 Always use room temperature eggs.
 I use two 1′ X  1/4″ wood strips under the rolling pin to get the 1/4″ thickness for the cookie dough

Print This Recipe