Vegan
Serving Suggestions: Serve over quinoa, rice or noodles.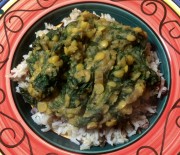 Dhals are a cross between a soup and a stew.  They are made with pulses (dried beans, peas or lentils).  They are a mainstay in Middle Eastern cuisine.  They are made with all the warm […]
This dough is made the day before and placed in the fridge overnight.  Trust me, it is well worth the wait.  If you are in a rush try the Pizza Dough recipe.