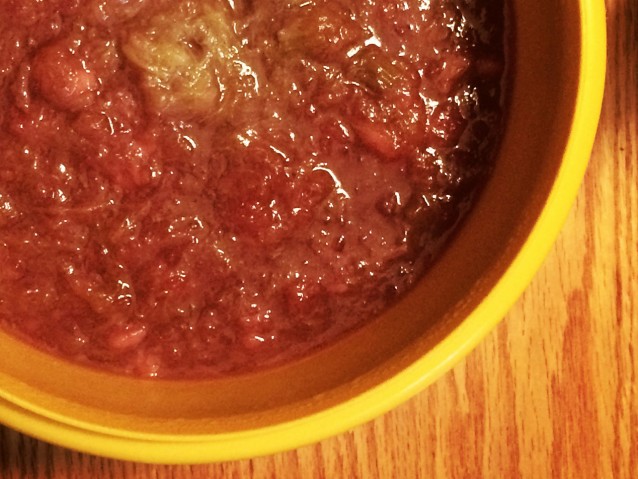 My Mother grew and ate rhubarb for as long as I can remember.  I really never developed a palate for the stringy sour stuff until I made this recipe. Before we sold the family home I dug out all the rhubarb and transplanted it in our vegetable garden.  All winter we anticipate the springtime emergence of it's knobby heads.  We so love this dish made with the first pulled stalks of rhubarb.
Ingredients
Zest of 1/2 lemon
4 cups rhubarb, chopped
1 large apple, peeled and grated
1/4 cup water(see note)
1 cup sugar
1 1/2 tbls candied ginger, finely chopped
juice of 1/2 lemon
Directions
Put all ingredients in a saucepan except the lemon juice.
Bring to a boil over high heat.
Reduce heat and simmer for 15 minutes or until fruit is mushy.
Remove from heat and stir in lemon juice.
Serving Suggestions:
Cool and enjoy as is or with cottage cheese or yogurt.
If you have lots of rhubarb and want to preserve it to enjoy during winter it can be put into mason jars and processed in a hot water bath for 15 minutes. A double recipe makes 3-500ml bottles with a little left over for dessert. Use the same safe canning practices as with jams and jellies.
Optional:
Note about water: The water is just to keep the rhubarb and sugar from sticking and burning to the pot. If you have the time you can put all the ingredients in the pot, except the water and the lemon juice, and let it sit for an hour or so and the sugar will melt and the rhubarb will produce it's own juices. If time is short add up to 1/4 cup water. This recipe can be doubled but do not double the water.

Print This Recipe