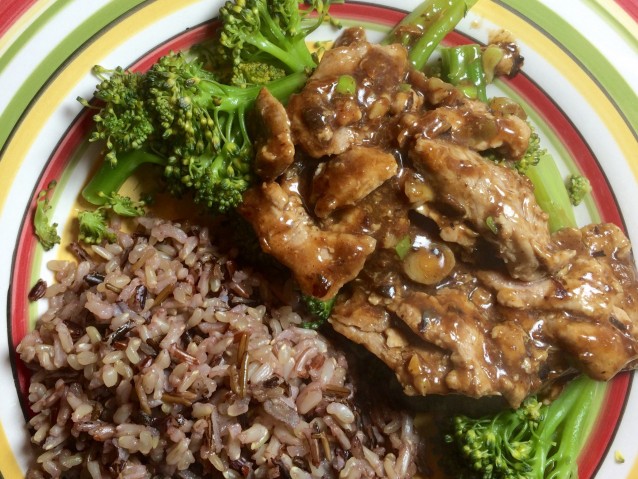 This is one of those dishes that comes together pretty fast and looks like you spent hours in the kitchen.  We like to keep a couple pork tenderloins in the freezer especially for this dish.
Ingredients
1 pork tenderloin
1 teas minced ginger
1/4 teas salt
1/4 teas pepper
1 head of broccoli
3 tbls peanut oil
3 green onions
1 clove of garlic, minced
2 tbls finely chopped coriander(cilantro)
3 tbls black bean sauce with garlic
1 teas sugar
3/4 cup chicken stock
1 tbls tapioca starch
Directions
Slice pork thinly. In bowl stir together pork, ginger, salt and pepper and set aside.
Cut off broccoli florets and peel and slice stems. In a large saucepan of boiling, salted water cook broccoli for about 2 minutes. Drain and transfer to serving platter.
Heat oil in wok and fry pork in batches so the pork doesn't stew. Remove to a seperate plate.
Add remaining oil to wok and stir fry the green onions, garlic and coriander. Add black bean paste and sugar and cook for 30 seconds. Combine the stock and tapioca statch and add to wok. Return the pork to the wok and heat through.
Serve over the broccoli.
Serving Suggestions:
Garnish with cilantro and green onions.  Serve with rice.

Print This Recipe