No one knows a Gnome like we now knows a Gnome!
Every year we try to make a series of Christmas tree ornaments with a different design or with a different theme and this year it was Gnomes. And what a great choice it was 'cause boy, did we have fun making these little fellers!
We really weren't aware of the huge popularity of Gnomes when we decided to make them. When we first saw them we just thought they were cute and with the grandchildren we knew it was time for a bit of whimsy. We had seen a photo or two from other makers, a couple of videos and the like but then the more we looked the more we found. (In the words of one of our friends, "Yeah, they're a thing.") It was like Gnomes had taken over the world. And for a couple of weeks they certainly took over ours! 🙂
Deciding to have a bit of fun in the making of these elfish tree baubles we left caution to the wind, dropped our calipers and turned with "reckless abandon". To that end their varying sized hats and noses that were made with a combination of Cherry, Walnut, Maple or Ash, giving each one a unique look. Adding their long matching grey beards they seemed to come alive, each with their own personality. We even named them with names like Norman, Neville, Noland and Norbert. 🙂
Here's a couple of photos of these delightful ornaments: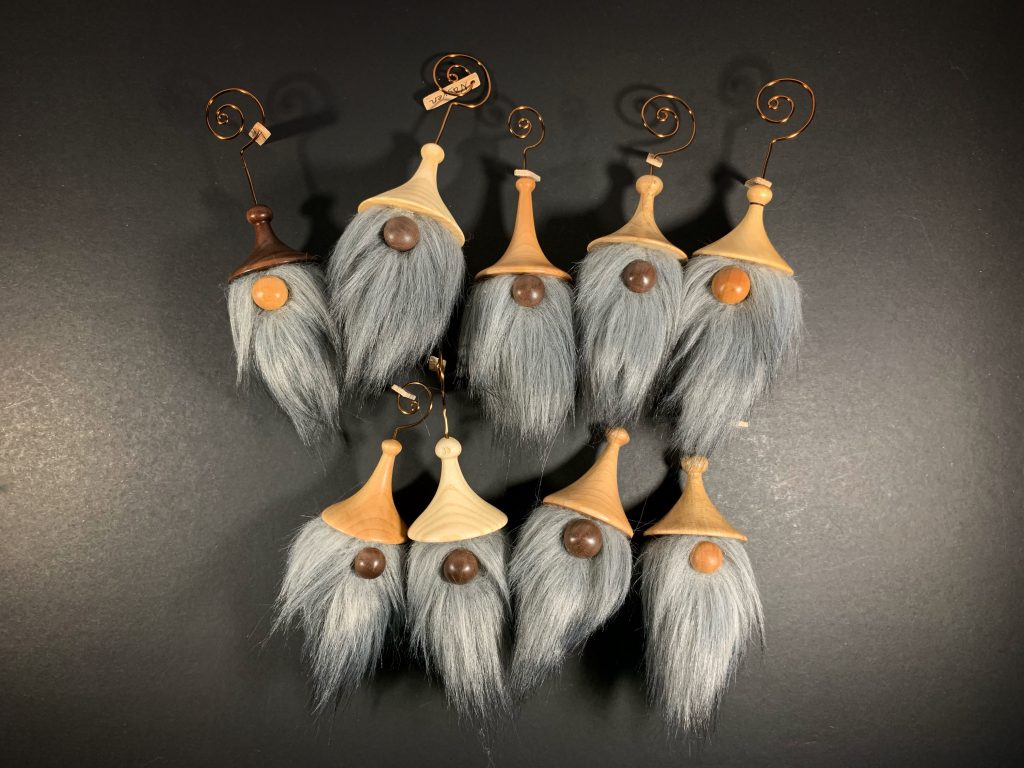 Because they were so much fun it's very likely that we'll be doing more of these for many Christmases to come!
Back to the shop…