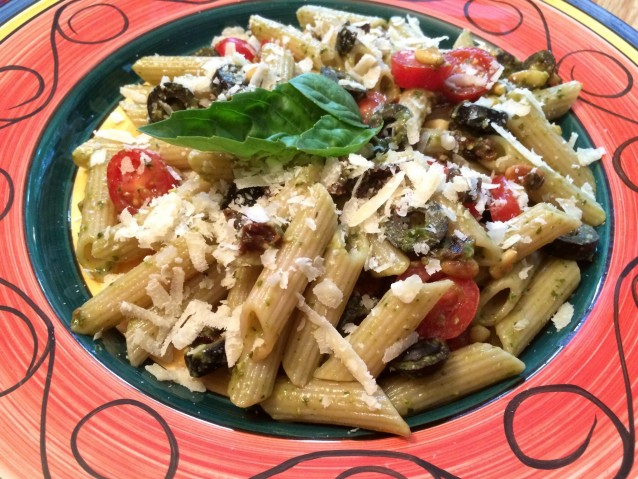 We always have pesto in the freezer because we always plant a lot of basil and it always seems to grow really well.  Did you know that tomatoes and basil are great garden companion plants? This dish is super easy to put together after a day in the garden and also reminds us why we spent the day in the garden in the first place.
Ingredients
2 cups pasta, spirals or penne
2 tbls pesto
3 tomatoes, seeded and chopped
1/2 cup sliced black olives, drained
4 sun dried tomatoes, soaked and chopped
2 tbls pine nuts, toasted
2 tbls Parmesan or romano
fresh ground black pepper
Directions
Cook pasta according to package directions until al dente, drain and put back in pasta pot.  Toss with pesto.
Add tomatoes, olives, sun dried tomatoes & pine nuts to the pot.  Combine gently as not to break up the pasta.
Place on dinner plates and top with cheese and fresh ground pepper.
The amount of pesto is a personal choice.  I think more is less with pesto but if you disagree add as much as you like.  We found a really nice organic ancient grain penne pasta at Costco by True Roots.  It is brown rice, quinoa, amaranth & corn.
This recipe will serve 4 with a salad or bread or 2 as the main event.

Print This Recipe