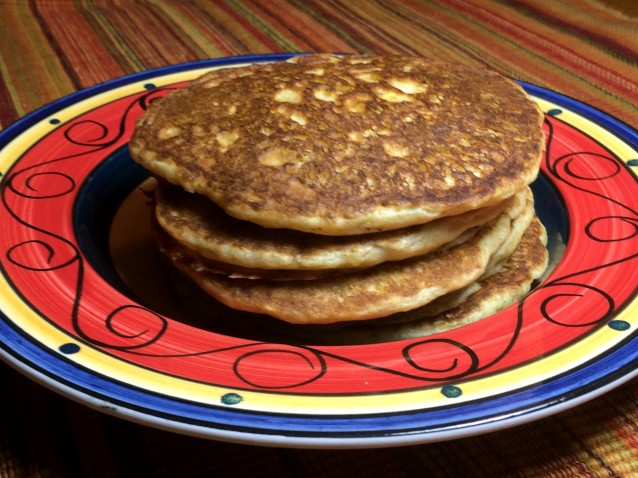 We planted some bush variety summer squash this year.  The yellow straightneck summer squash has been quite a prolific producer.  That begs the question, "What do you do with all that summer squash?"  You could ignore them in the garden but they will double in size every two days. We pick them when they are 6″ to 9″ long.  We have stir-fried them on the barbeque and made loaves, cakes and muffins and they are still growing.  I found a recipe for pancakes and thought I would give them a try.  If you have a zucchini, yellow straightneck or pattypan squash  that just won't quit give these a try.  We served them with Blueberry Sauce but maple syrup would be just as tasty.
Ingredients
2 cups summer squash
3 large eggs
3 tbls olive oil or oil of choice
3/4 cup whole wheat flour
1 teas white sugar
4 teas baking powder
grapeseed oil or other high heat oil
butter (optional)
Directions
Preheat a griddle(400F) and oven (225 F).
There is no need to peel or remove the seeds.  Prepare the squash by either finely grating on a box grater OR using the grating disk on your food processor.   Measure 2 cups.
If you have used the food processor just add the squash back to the food processor with the eggs and olive oil and pulse to combine.  Add the flour, sugar and baking powder and pulse or blend on low speed until the mixture is combined.  You are not looking for a puree but a batter with a bit of texture and a consistency that will spread on a griddle but not so wet it will not keep its shape.
If you have used a box grater the method is the same.  Start with a medium sized bowl and add the grated squash, then the wet ingredients stirring to combine.  Add the dry ingredients and stir to desired consistency.
Using a pastry brush apply high heat oil to the preheated griddle.  Using a ladle drop about 1/3 cup of batter on griddle.  Cook until bubbles  appear on the top of the pancakes.  Flip and cook other side.  Brush a bit of butter on the pancakes and place on a baking sheet in the preheated oven until all pancakes have been cooked.  Alternately place cooked pancakes on a cooling rack.
Serve with Blueberry Sauce or maple syrup.

Print This Recipe