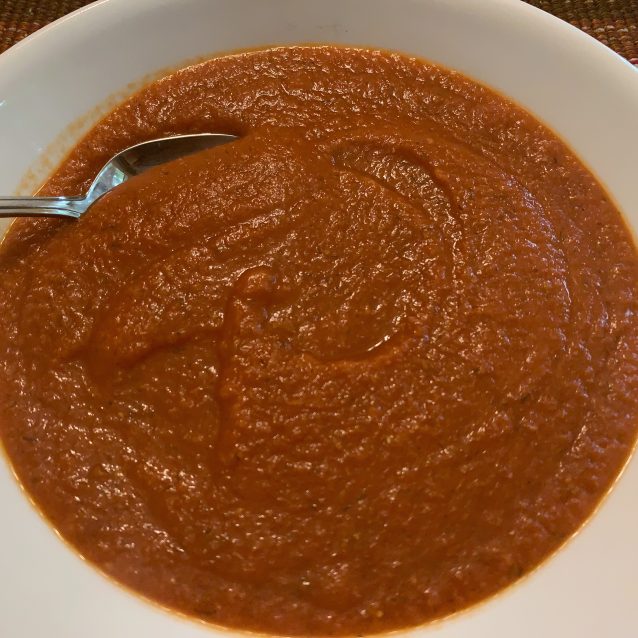 What better time to make tomato soup than when the tomatoes start ripening in the garden?  This recipe uses dill weed which you might think odd but it is delicious.  This recipe also takes advantage of our newly harvested garlic and onions.  If you want to make this a bit more hearty add 1/4 cup of red lentils to this soup.  If you plan to do this add 1/2 cup more stock to compensate for the liquid that the lentils will absorb.  This recipe can also be made with a 28 oz can of plum tomatoes.  You should measure the liquid in the can and add enough stock to equal 2 cups.
Ingredients
2 tbls butter
1 clove garlic, crushed
1 medium onion, diced
22 oz plum tomatoes
2 cups homemade stock
1 tbls tomato paste
1/2 cup tomato sauce
1 bay leaf
1 tbls fresh dill or 1/2 teas dried dill weed
Salt and Pepper
Brown sugar (optional)
Directions
 For fresh garden tomatoes slice off the stem end.  Heat a pot of water to boiling and drop in tomatoes.  Dip the tomatoes out and slip off the skins.  Cut tomatoes in half and remove seeds.
In a dutch oven or other pot with a large surface area heat 2 tbls butter over medium low heat.  Add the onions and saute until translucent.  Add the garlic and saute a few minutes longer.
Add fresh tomatoes and simmer until they are cooked, about 15 minutes.
Add the stock, tomato paste, tomato sauce, bay leaf and dill. Heat to simmer stirring occasionally for 15 minutes.
Add salt and pepper to taste.  If you find that it has an acidic taste add brown sugar by the teaspoon full tasting between additions.
Remove the bay leaf and using a food processor pulse the soup to the desired consistency.

Print This Recipe