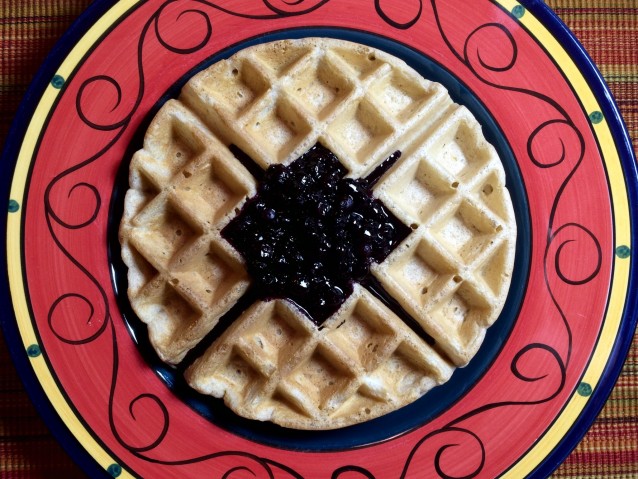 About 10 years ago we came upon a yard sale in Colby Village and we picked up a waffle iron.  It had never been used and came with a bag of batter mix and only cost $8.00.  I figured it would end up being used once and then be placed on a shelf in the appliance graveyard.  I couldn't have been more wrong.  We use it on a regular basis and waffles have become one of our favourite breakfast choices.  We serve our waffles with  Blueberry Sauce.
Ingredients
2 eggs, separated
1/8 teas cream of tartar
2 cups unbleached flour(or spelt, barley, gluten free mixes)
3 teas baking powder
1 teas salt
2 tbls sugar
1 3/4 milk of choice
2 tbls olive oil
1 teas vanilla
Directions
Preheat waffle iron.
Place egg whites in the bowl of a stand mixer adding the cream of tartar and beat with the whisk attachment until peaks form.  Remove to a bowl.
Place the eggs yolks in the bowl of the stand mixer and whisk until creamy.
Combine the wet ingredients and add to the mixer.  Mix to combine.
Combine the dry ingredients and add to the mixer.  Mix to combine.
Fold in egg whites.  This can be accomplished using a large hand held whisk or a spatula.
Ladle into a waffle iron and cook until done.  I use a Belgian waffle maker which takes 1 full large ladle of batter and bakes to perfection in 2 minutes.
A note about Flour:  I have made these with low gluten and gluten free flours and have had good results.  I would recommend when using these alternative flours that you add 1/8 to 1/4 teas xanthan gum.  It will provide a better texture for your waffles.

Print This Recipe