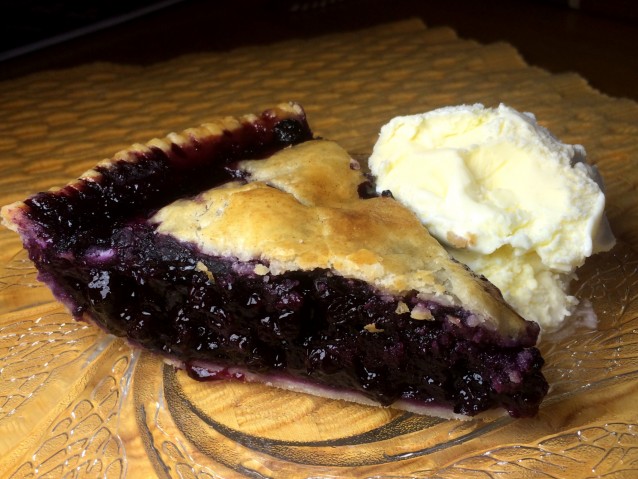 I know, I know this recipe has the same ingredients as just about any blueberry pie that you have ever made but the difference is in the method.  Since we do not like runny pies this recipe makes us very happy.
Ingredients
6 cups wild blueberries, fresh or frozen
1 1/4 cups white sugar
1/4 teas cinnamon
5 tbls quick cooking tapioca
1 tbls fresh lemon juice
Pastry dough for a double crust pie
1 tbls butter, cut into small bits
1 egg, beaten with 1 tbls water
Directions
Heat oven to 425 F.
Put the tapioca into a coffee/spice grinder and process until finely ground.  Add to a bowl with the sugar, cinnamon.  Add the blueberries and the lemon juice.  Stir to combine.
Fill prepared pie shell, dot with the butter and add the top pie crust.  Trim top crust and crimp edges to seal.  Combine beaten egg with water and brush the top crust. Vent the top crust with knife slits or decorative vents to allow steam to escape.
Place pie on a baking sheet and put in preheated oven for 30 minutes then cover the crust edge with a foil shield to prevent from burning.  Reduce the heat to 375 F and continue to bake another 30-45 minutes.
Cool on a wire rack at least 4 hours.
A note about pie dough: Pie dough needs to be kept as cold as possible for as long as possible so while you are rolling out the shell put the remaining dough in the fridge and while you are rolling out the crust put the shell in the fridge.

Print This Recipe