Today was both a happy day and a sad day. Happy, because we would finish the chair to the point that we had set out to do four days ago and sad, of course, because it was my last day here at Rocking Chair University. The week had gone so fast, it seemed that I had just arrived!
The day started with a special treat. In addition to rocking chairs Hal has made several guitars and harps. Here he is playing a few songs on the 'Reso Nuevo' resophonic guitar (dobro) that he built: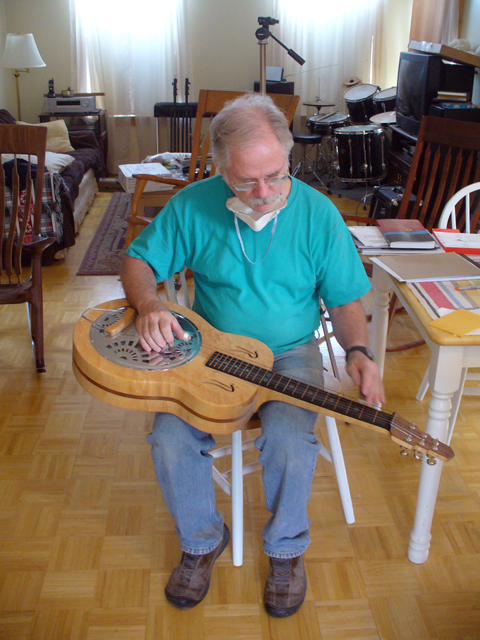 He doesn't make guitars anymore but he says he's working on a few more harp designs and he also hopes to make a violin sometime!
After this enjoyable mini-concert we worked on the arms and the rockers. The first thing to do was to plane the rockers to size: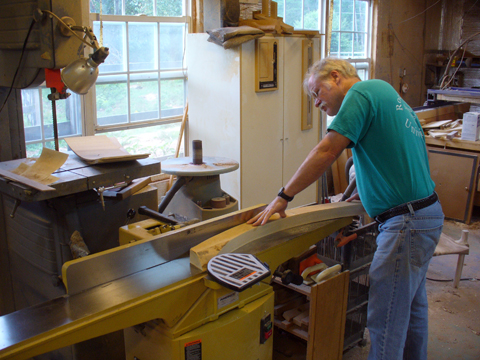 For this project this was a one piece rocker and not the laminated type that normally is fitted to Hal's traditional chairs. Although, I never got a chance on this visit to see the back braces and rockers being laminated I saw this as a positive sign of the need to return for another visit. 🙂
The rockers were then trial fitted to the chair for sizing: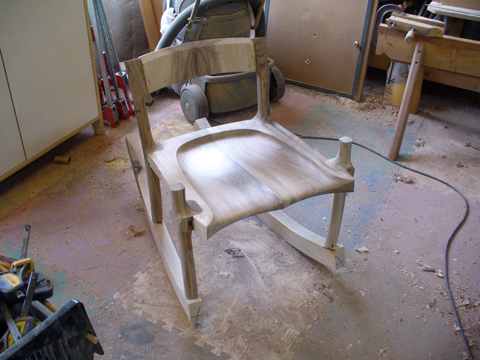 At this point it was only fitting for the builder to take it out for a spin :):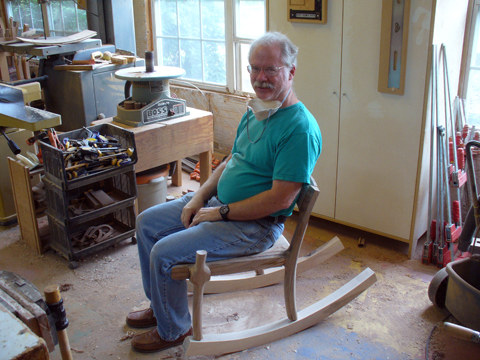 A bit of fine tuning and sizing is needed for the stacks that will be added to the rockers and legs: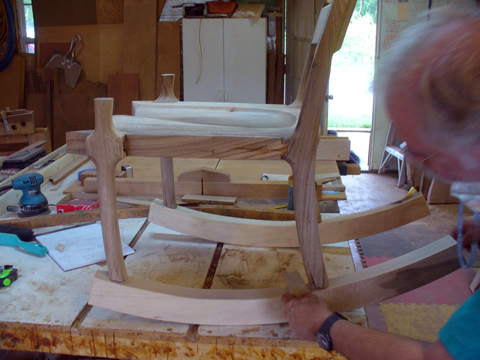 Here are the arms being laminated: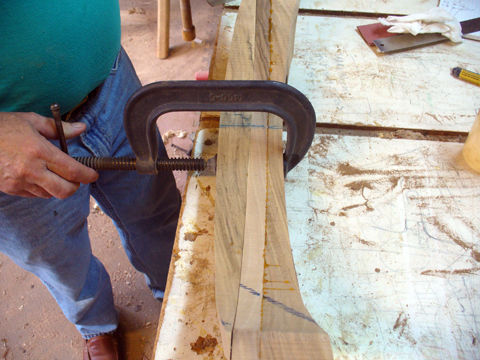 Once the glue was cured the arms were attached to the seat. It was easier to do this before the rockers were attached: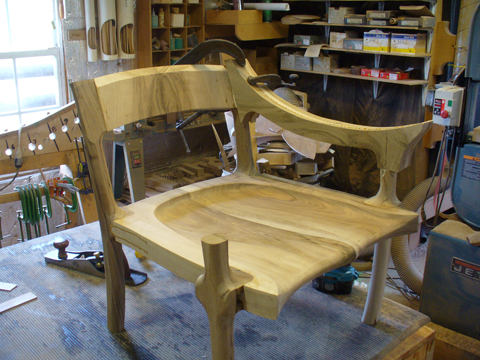 Here is the small rocker with all it's parts attached: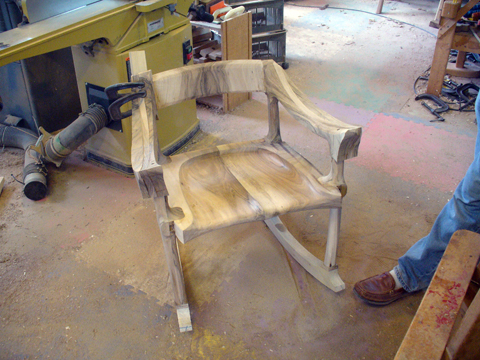 Sadly, it was at this point in the construction where I had to make my leave, with the final sculpting to be done by Hal later.
From start to finish the week had just zoomed by. It was truly a joy to be enveloped in a cocoon of focused woodworking, no, focused art, for it was much more than simply working with wood.
The skill and practicality displayed, the tips and tricks shown and the wisdom shared imparted an experience that is ingrained in my very being. At one time during the day while Hal was answering a call in his office I was sitting alone in the shop musing about the week thus far. I began thinking about the fact that what I was learning here was far more than any book or trial and error could ever teach. There was far more than just basic chairmaking instruction that I received.
It's a fact that some craftsman get so in tune with their work that they achieve a heightened awareness in their craft and the world around them. It was this sense, the sense that there was something larger, something more, that was I given a small glimpse of. This week I found something more wholesome in the working of wood, a contentment and completeness. This week, I found the Spirit in wood.
I came home with a full set of Hal's plans, a sense of purpose and a renewed determination to build a chair. And not just any chair but a Hal Taylor style rocking chair!
Now I just have to get all those other projects that have been on my Todo list way too long out of the way. 🙂
Thanks, Hal for a great week. See you again soon!
Back to the shop…