We recently had the opportunity to attend a seminar with renowned bowl maker, Mike Mahoney. Mike has been a professional woodturner since 1989 and he specializes in utility items such as salad bowls, plates, and platters. He also creates, and is rightfully identified with, beautiful screw-top urns and natural-edge nesting bowls.
This one day seminar on green bowl turning was part of the Celebrating Woodturning In Nova Scotia week, hosted by Lee Valley in conjunction with the Nova Woodturners Guild.
The project that was planned for the day was a Calabash bowl turned from green Poplar. We got off on a bit of a late start (Mike was grounded in Newark the night before because of an East Coast storm – surprise, surprise 🙂 so the class started a few hours later than scheduled) but once it began it was like 'all get out'.
Mike started with a brief introduction of himself and then showed and explained a few examples of his work: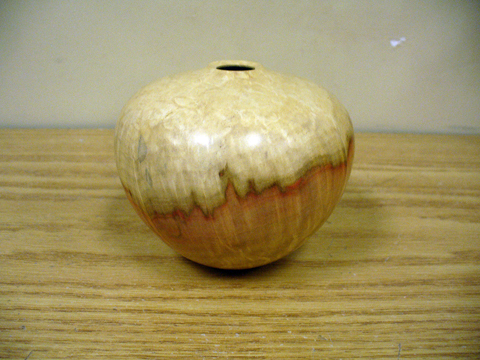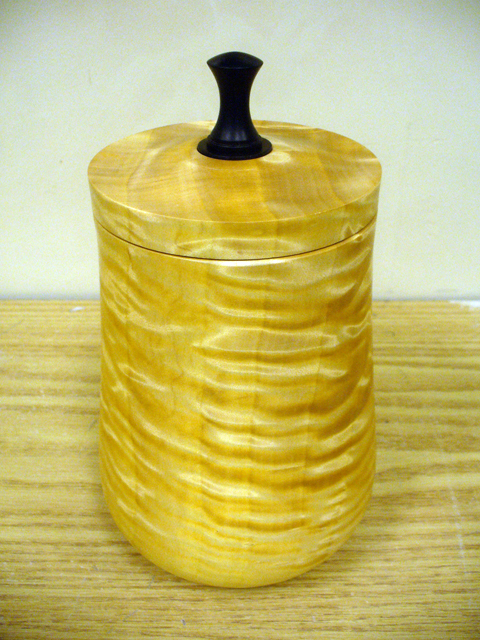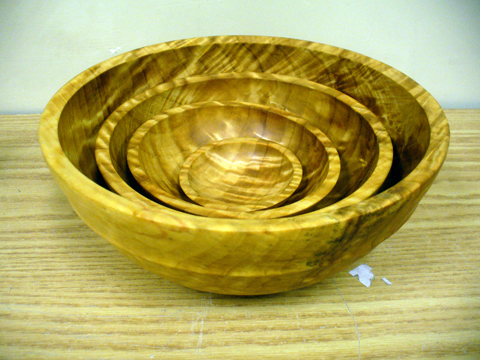 From there he went into an in-depth demonstration on his sharpening principles. Using the white board he explained the differences of a bad grind and those of a good one, as well as his personal experience in gaining 'the perfect grind'. From there we went to the grinder for a demonstration: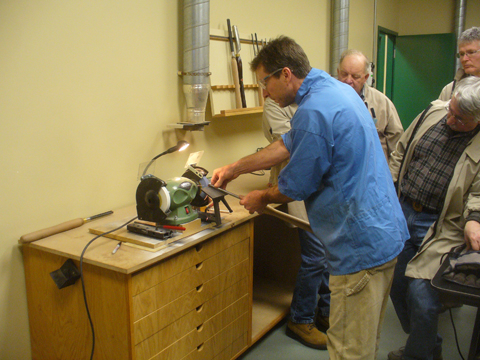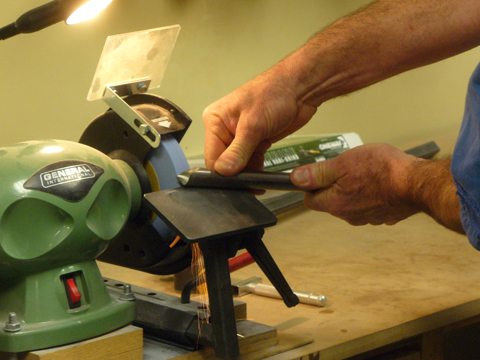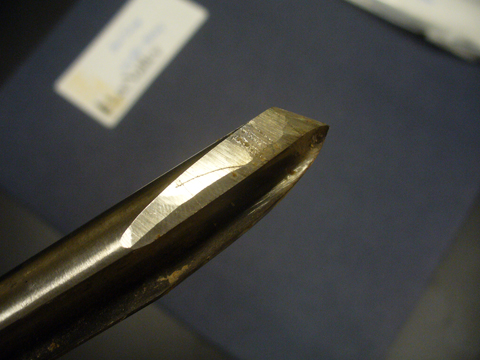 There was so much information given here that it's likely best to have this explained by Mike himself in his video here:
Now, that looks easy. 😉
From there Mike us took us through all of the steps for creating the Calabash bowl. From board work to lathe work we were given a step-by-step breakdown of the necessary bowl turning gouges in action. He explained how the angle of the tool and the angle of the grind works hand in hand to create the optimum shape and the highest quality of cut.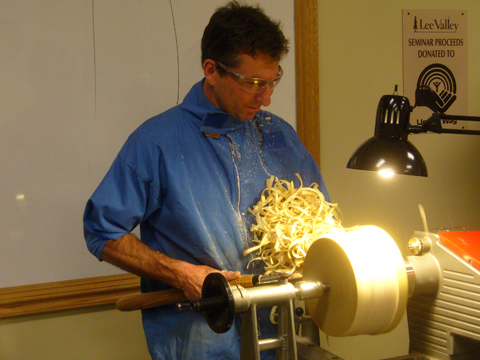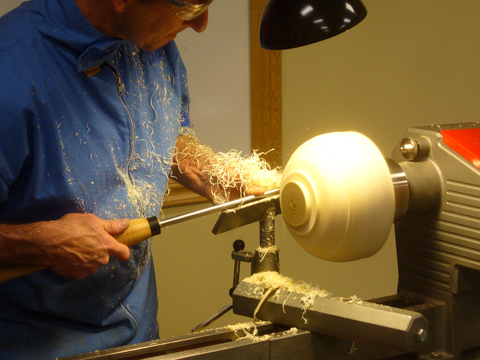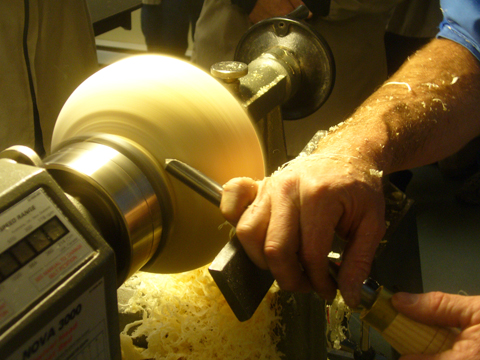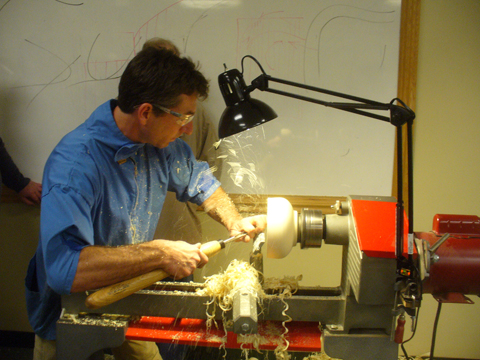 As an additional exercise Mike showed us how to turn and use a jam chuck to turn the bottom of the bowl.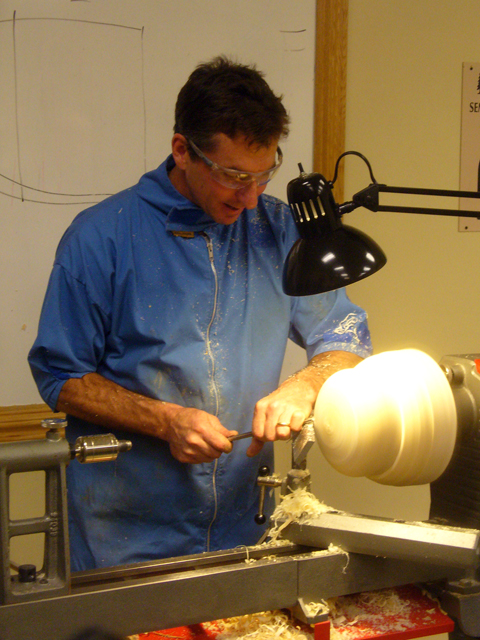 From there it was time for us to get working on our own bowls. Within minutes the relative calmness of the classroom erupted into a woodturning frenzy. It was like the start of a NASCAR race – yep, we started our engines! 🙂
Picture this, (you'll have to since I didn't get a photo of it 🙁 ), ten turners, each with a 10″ round of green poplar, attacking it aggressively. The streams of wet wood flying in the air reminded me of a ticker-tape parade! It was like it was snowing. The shavings just kept piling up. Ahh, it was like heaven. 🙂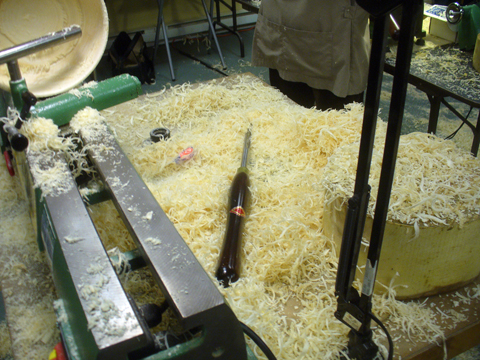 We spent the rest of the afternoon turning our bowls, attempting to utilize the techniques that Mike taught us earlier. Mike, of course, made his rounds to each workstation repeatedly throughout the day, overseeing our progress and offering individual help and support.
The highpoint of my day came when I had a chance to 'play' with Mike's own gouges, in particular, the Woodbeater, the Bottom Feeder and the Shear Shaper. These three tools are part of a six piece set that are made by Henry Taylor to Mike's design.
The Woodbeater is a 5/8″ bowl gouge with a 40 degree cutting angle and swept-back wing design. It is the workhorse tool for shaping and the bulk removal of wood. The size and weight greatly minimizes vibration.
The Bottom Feeder is a bowl gouge with its heel ground away as well as the wings are ground back about 10 degrees. This enables it to easily get around the bottom of the bowl.
The 'Shear Shaper' is a 1/2″ bowl gouge has an extra-long side grind that creates clean shearing cuts.
By using these tools it quickly became clear how Mike's sharpening technique makes a big difference in the final result. The size and weight of the tools made turning these larger pieces of wood a breeze.
The day finished with Mike giving us a demonstration of the McNaughton Center Saver.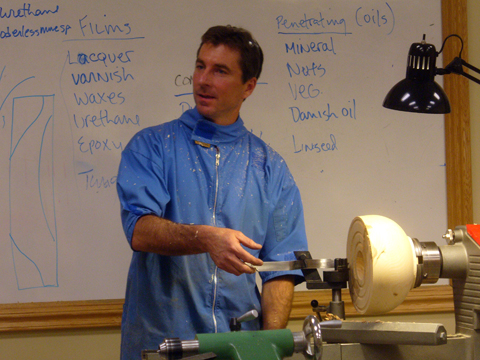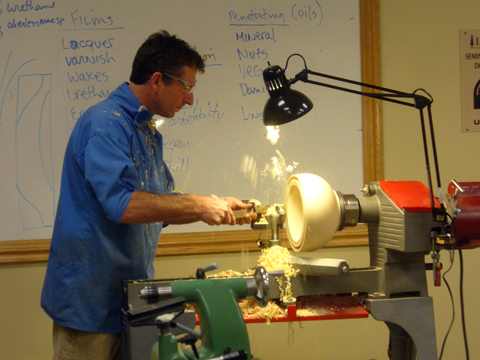 We find that Mike has a teaching style that blends a very engaging presentation with deep insight into the all important technical requirements that results in a highly informative package. This was also evident when we saw him at the AAW Symposium last summer. His vast experience, gained from years of production bowl turning, and his willingness to freely offer this information made the day a truly enjoyable, and most definitely, an educational one. In addition, it was a real treat to get bowl turning instruction from the perspective of a production bowl turner where the goal is both quality AND quantity. Though I don't have any plans on going into bowl production any time soon the skills gained today will undoubtedly help in getting through my extensive todo list! 🙂
Everyone went home happy with at least one bowl, a few new skills and a slew of information. As they say, a great day had by all. Thanks, Mike!
Kudos also go out to Lee Valley and Scott Croucher for making this day happen.
For more info on Mike Mahoney visit his website and blog!
Oh, btw, here's the Calabash bowl we made. 🙂
Back to the shop…