What a great day for making baskets! We had a chance this past weekend to visit a couple of local woodworking related events. This first one combined our love of working with wood with our interest in Mi'kmaq and Native art. It was a day related to basket making appropriately called 'Basketry Day'. The day was organized by
The Nova Scotia Basketry Guild
in celebration of their 20th anniversary.
The event opened with a Mi'kmaq drum ceremony and continued throughout the day with lectures and basket making demonstrations. In addition to the focus on Mi'kmaq basketry there were also talks and demonstrations on the Nantucket and Shaker style baskets.
We were most interested in the Mi'kmaq style of basket making and we were not disappointed.
An excellent demonstration was done by retired Chief Greg McEwan of the Bear River First Nations. He lives in the village of Bear River, an artisan community located a few miles upstream from the Annapolis Basin in Western Nova Scotia, where he also operates a basket shop called Beartown Baskets. The photo above shows a great example of his work.
Chief Greg McEwan makes his baskets by hand using Ash collected from the forest surrounding his home. The thin Ash strips, called splints, used in basket making are made by first hand-hewing the wood into approximately 1″ thick pieces of various widths and then by pounding these pieces with a small metal sledge hammer until the splints are separated along the growth rings. The splints can also be separated by clamping the wood and then bending it along its length.
They are then hand split to make them even thinner. The splints are then woven in chequer or twill patterns creating the desired shape and sized basket. Splints can be dyed for decorative purposes.
Heavier pieces of Ash such as those used for the handles or edging are first hewn to size and then steamed and bent to shape. The steaming method was a quite simple process with the wood first given a quick soak in water and then placed into steamer which consisted of a stove pipe chamber sitting on top of a kettle. After about five minutes the Ash becomes quite pliable.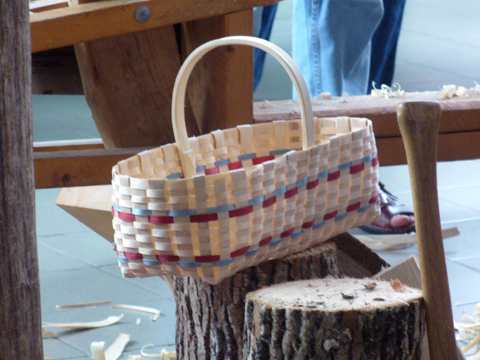 In addition to White, Black and Red Ash other woods such as Red Maple, Poplar and Yellow Birch are used in basket making. Most is used green after only being cut a few weeks.
There was also another great demonstration by Anne Mae Darville from the Eskasoni Reserve in Cape Breton. There was a display of her work which included several small pieces, some as small as a thimble! She also demonstrated and explained the process of her craft.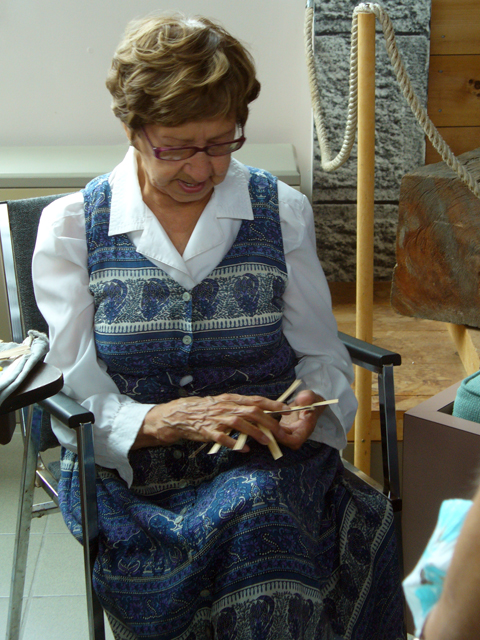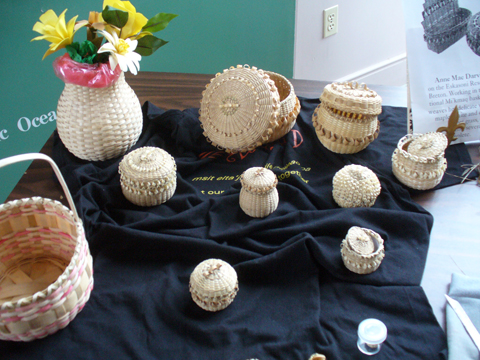 Basket making is not something that quickly comes to mind when thinking of woodworking. However, it is definitely working with wood. Today was a great example of this. It was quite fascinating to see a functional product, a container, that is so light, yet durable being created from these thin strips of wood. Truly fascinating.
Back to the shop…