But basket making is woodworking!
We just finished a basketry course with installation artist, Ursula A. Johnson, which was quite fascinating. Not only did we come away with lots of great instruction on how to make a basket but also lots of appreciation for all of the work involved in creating one. We also happily came home with a small basket of our own:
The basket we made is made of White Ash with a Sweetgrass accented handle and a bit of red dyed Ash for contrast. It is about 4″ tall and 2″ in diameter. It was made in the 'kloqowej', or star, style. Which means that the basket has a circular bottom with a star pattern.
It is very light and although it appears to be fragile We were quite surprised at just how strong it is. It would take a fair amount of pressure to crush it. It is easy to see why baskets would have been used extensively for storage and transporting.
If you remember our interest in Mi'kmaw basketry that we spoke about a few years ago when we attended Basketry Day hosted by The Nova Scotia Basketry Guild then you know that taking this course was quite a thrill for us.
This was a 5 night course that was held at NSCAD and had home work in between . It was called, "Introduction to Mi'kmaw Basketry" and the outline stated, "Students will learn the basic fundamentals of Ash Basket Weaving. They will learn the traditional method and techniques of preparing the wood and plants in an ecological and economical manner. Learning the traditional twists, curls and bends in Traditional Mi'kmaq Basketry, all the while encouraged to explore the materials and their versatility in creating personal and unique works of art."
The crowning point was that the course was taught by Ursula A. Johnson.
Ursula is a Mi'kmaw artist from Eskasoni First Nation in Cape Breton and her work ranges in styles and techniques, including video, photography, mixed media, performance, installation and traditional Aboriginal art forms. Her conceptual works combine images and elements from a multitude of sources in order to explore and challenge ideas of ancestry, identity and culture. She was the first female Mi'kmaq student from Eskasoni First Nation to graduate from NSCAD so it was very appropriate that this first course was held here… and we felt very privileged to attend.
Here's a video from 2009 with Ursula describing her work:
And here she is talking about preserving Mi'kmaq culture through the art of basketry (This video was a later addition to this article):
You can read more about her via these links:
http://halifax.mediacoop.ca/story/urban-aboriginal/5410
http://www.thecoast.ca/halifax/ursula-johnson-elmiet/Content?oid=1928051
Her course took us on a journey from tree to finished basket. After carefully explaining how the Ash tree was cut and then separated, by pounding, into strips we were given strips to further separate. We used several methods to do this including using our teeth (yes, teeth!) 🙂 and also with it held between our feet. From here the strips were cut into thinner strips of appropriate width for our project. We also braided lengths of Sweetgrass.
We can assure you that the above summary does not come anywhere near the amount of work that this entailed. It was hard work and a great exercise in understanding what is involved in basket making – and we started with the splints already made! We were also lucky that because of the time constraint this was only an exercise and the pieces we required for our baskets was supplied.
From here we were shown the techniques to complete our baskets, from the starting star pattern to the lacing of the handle. These same techniques can be applied to larger baskets too.
Throughout the instruction Ursula blended personal stories of how she learned to make baskets from her grandmother. As well, she told stories of Mi'kmaw legends with a dramatic flair that kept us on the edge of our seats. (Ursula is also a storyteller at Kejimkujik National Park. You can hear her telling of "The Rabbit and the Moon" by clicking here.)
Here are some photos taken during the course:
This is a small basket made by Ursula's great-grandmother, Mi'kmaw elder and basketmaker Caroline Gould: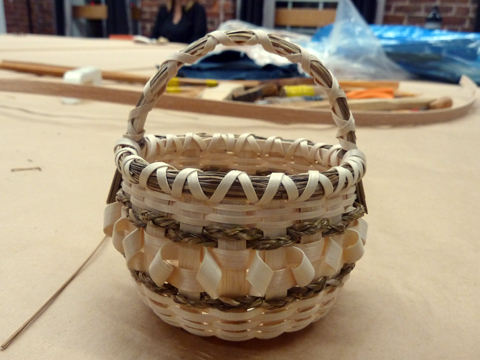 Here's Ursula demonstrating how to clean up and smooth the Ash splints: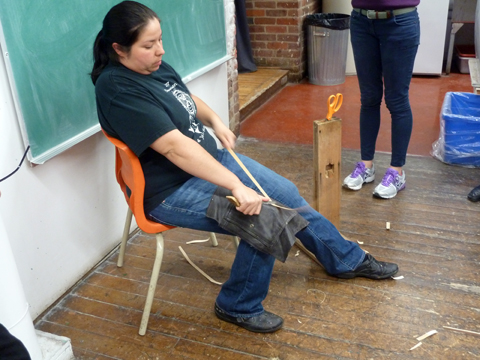 Here's a collection of the class's baskets at an early stage of completion: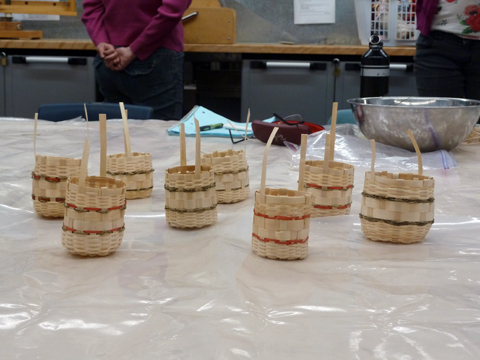 Here's a collection of the class's completed baskets at an early stage of completion: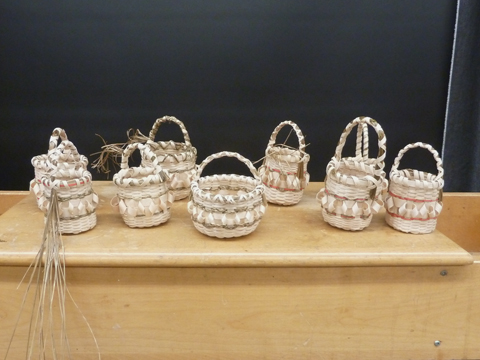 This was a fantastic course. Ursula gave us so much information in such a short time. Through her concise explanations, meticulous demonstrations and her desire to share I came away with the confidence, know-how and materials to start on our own venture into basket making. We do have a couple of projects in mind including some that will incorporate basketry in to my other forms of woodworking.
Thanks, Ursula! Great course! Great time!
Oh, before we forget, and here's another photo of our basket, happily sitting next one that we have here at home that was made by Chief Greg McEwan (his is the one on the right ;)):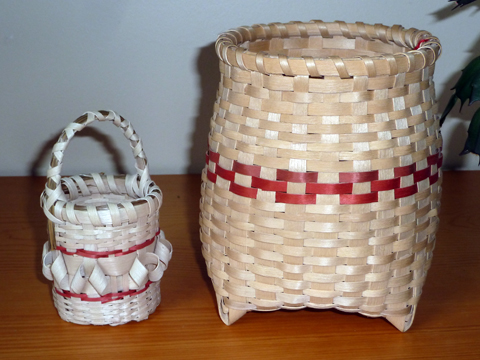 Back to the shop…