Here's a neat set of table decorations, called the Ahmaga Trio, that we made over the weekend. They are made out of Cherry and finished with milk paint. After burnishing, the milk paint gave these pieces an almost ceramic look.
Yes, they are made out of wood! 🙂 In fact, these are the first pieces that we have turned from wood cultivated from our woodlot located on the beautiful North Mountain of Nova Scotia, but that's another story ;).
The tallest piece is 9″, the mid one is 6″ and the smallest one is about 4.5″. They are all about 3.75″ in diameter at their widest. They were finished by buffing with wax to bring out the shine.
Another of the cool effects of milk paint is that it also somehow reacts (likely the hydrated lime) with Cherry to give a bronze look where the paint is burnished through to the wood. Here's some closeups: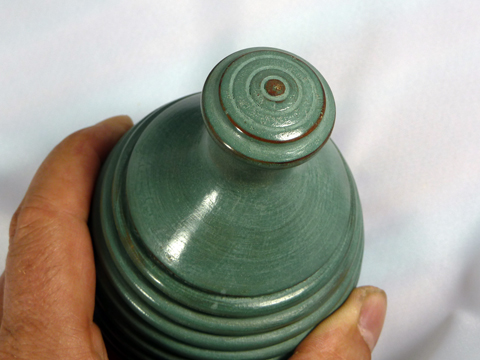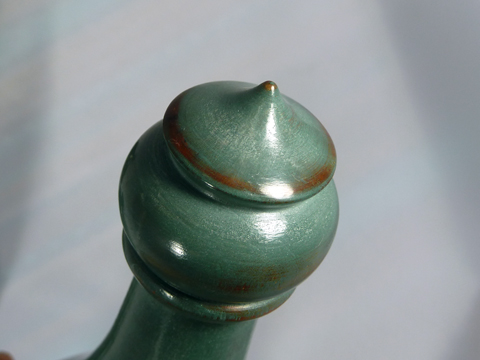 These pieces were made on a whim, just playing around for the most part. We were experimenting with the relationship of shape to size, which turned out to be quite interesting. It seems that while trying to maintain the same, or very similar, shape that the size has to be changed somewhat to give a more pleasing look. We found that shaping and sizing on a logarithmic scale, at least in this case, wasn't very appealing. Another strange thing was that with only two pieces any shape/size combination seemed to work but when the third piece was added it threw it all off. It is like all three have to be turned at the same time. Ahmaga!
Mathmatics and deep pondering aside, we are so thrilled with them that we know that there will be more coming in the future.
Back to the shop…