Our project for the Nova Woodturners Guild Fun Turn was, what has come to be called, an English gentleman's walking stick. It is made of African Red Mahogany and it is 46 inches (117cm) long. It features aluminum rings on the shaft as well as a silver plated disk on the knob.
The object of the Fun Turn is to turn something from a 6″ X 6″ X 3″ block of wood, in this case, African Red Mahogany. We wanted to do something different again this year, something that we hadn't done before. Last year we turned the Shared Heritage piece which sits in our living room and we enjoy seeing it every time we walk into the room. It's unlikely that we would ever have turned this piece if we weren't given the Fun Turn challenge. We also wanted to create something that would maximize the amount of wood in the block. So after months of staring at the wood, (yep, just sitting there and staring at it 🙂 ), it came to us – we would make a walking stick. That would definitely maximize the wood!
We cut the block into eight 1 1/2″ X 6″ pieces, drilled a 2″ deep hole in each end, except for the top and bottom piece which only had one. We wanted something to accent where the pieces joined so we cut 1 1/2″ pieces of 1/8″ aluminum, rounded the edges on the grinder for easier turning, drilled holes in them and then glued the whole thing together with 4″ long hardwood dowels. However, to make it easier for roughing we just glued two pieces together at a time. We turned them individually and then when they were all rough turned we glued them all together and did the final turn and shaping.
The top was made out of a separate piece of wood, some type of Mahogany that we had here in the shop and matched well, with just enough shade variance to accent. The tip is made of just several washers and a screw which not only matched the other 'silvers' but will also be quite adequate at protecting the wood. To get the right length I cut several inches off the bottom section.
Here are some more photos of the stick including one of the block of wood that we began with: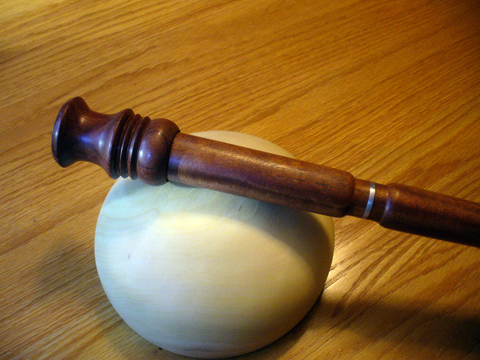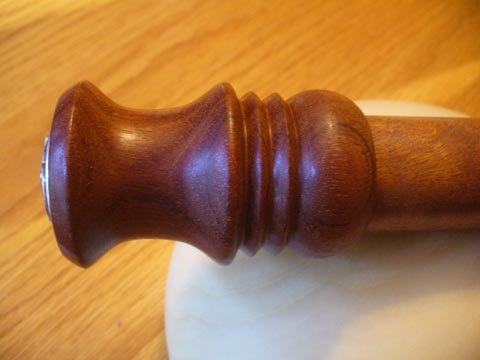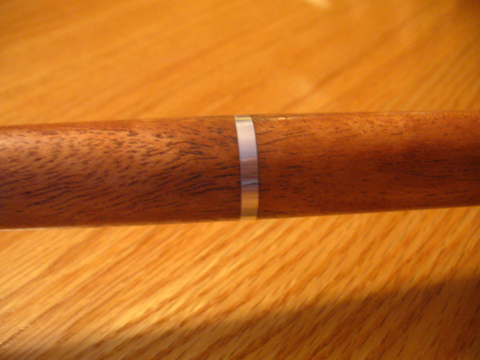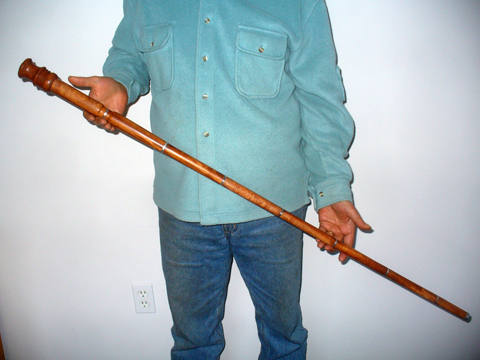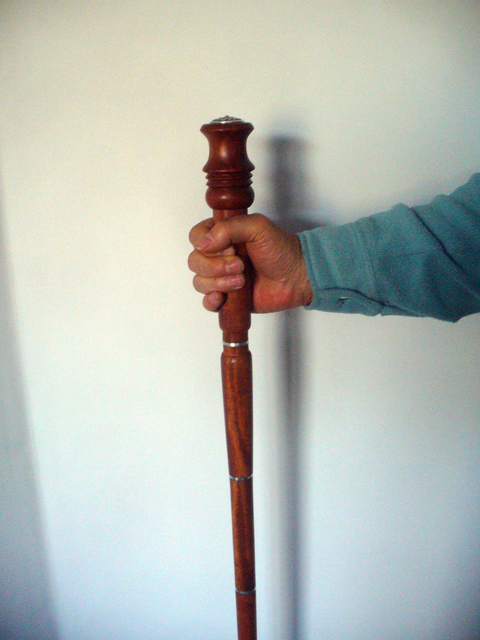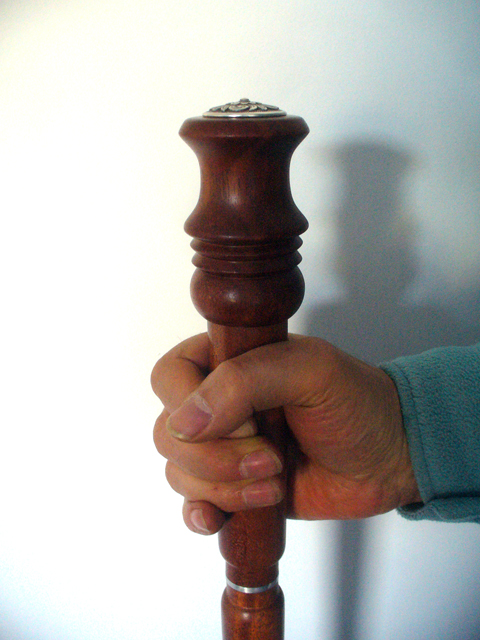 And here is the 6″ X 6″ X 3″ block of wood that we started with: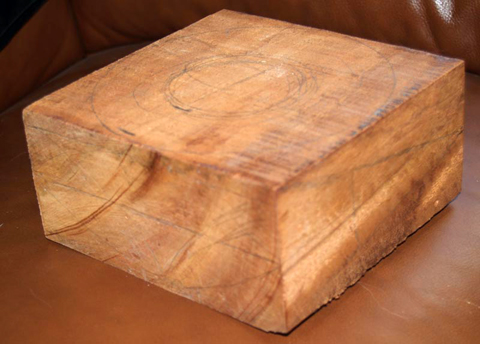 This was definitely a fun project and also a great woodturning experience. Again the Fun Turn moved us in a direction that we hadn't gone before. Additionally, it forced us to create a spindle steady, something that we had on our ToDo list for some time. In fact, the lack of a spindle steady had kept us from this type of project until now. Sort of a Catch-22 situation. The bottom line – it was fun and that's what it was supposed to be! 🙂
Back to the shop…