We spent an awesome evening last night with one of our all-time favourite singer/songwriters, Garland Jeffreys!
The concert was held at The Carleton as part of the 5th annual Halifax Urban Folk Festival. He was backed by the Halifax All-Stars, a great mix of local musicians who rocked the house, even though they had only practiced with Garland for a bit that very afternoon!
His just over an hour set opened with Coney Island Winter and went on to include such notables as Wild In The Streets, 'Til John Lee Hooker Calls Me, Ghost Writer and more. He also did several songs from his latest album, 'Truth Serum' such as It's What I Am and Any Rain.
We first became aware of Garland's music with the release of his Ghost Writer album in 1977. His 1980 release, Escape Artist, quickly became our favourite and is still regularly on our playlist. His other releases do get their share of playing time too, especially his latest couple. We realize that he is not as well known to a lot of people. We were so pleased when we heard that he was coming here to Halifax and more pleased that we got to see him after all these years. We were even more pleased to see that he packed the house!
If you're not aware of Garland Jeffreys here he is at the Old Grey Whistle Test in 1981 performing'96 Tears', his big cover hit from the album, Escape Artist:
And here's the official video for the song, Any Rain, off his album, 'Truth Serum' that was just released last year:
For more info on Garland Jeffreys you can go to his Official Website, his YouTube Channel, his Facebook page, his Twitter account and his Wikipedia page.
The evening started with an acoustic Songwriters Circle featuring Dwight Twilley, Bryan Potvin (previously with the The Northern Pikes) and David Pirner (previously with Soul Asylum). Each artist took several turns in rotation, telling us a bit about the particular song they were about to sing and then performing it. It was a real treat to have all three of these performers on one stage and to hear acoustic versions of their songs!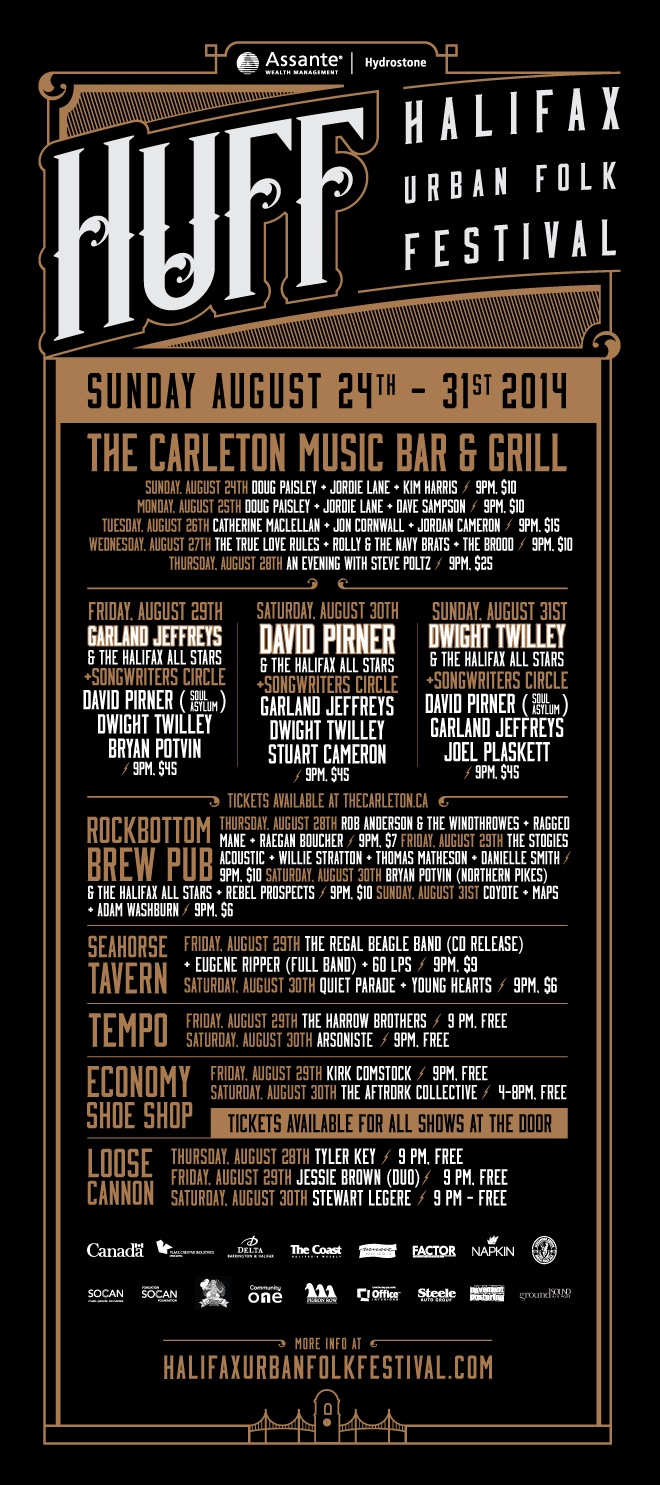 Truly a great night of music, nostalgia and fun! It truly was. If there was any complaint it would be that we wish they all could have played longer, not just so we could hear more but we believe that they were really heating up! Guess we should have bought tickets for the show tonight and the one tomorrow night!
Update April 3rd 2015 – Venerable NYC songwriter Garland Jeffreys pays homage to one of his oldest friends, Lou Reed, in a live off the floor take of "I'm Waiting for My Man" captured during rehearsal sessions for the Halifax Urban Folk Festival in Nova Scotia, Canada: