The alarm blared at 5:30am. It wasn't that it was that all that loud, it just sounded loud because it shattered the early morning stillness surrounding the top of Cape Blomidon. It was time to get up and get ready for the Atlantic Geofest 2008 hike to Cape Split. We had to be at the trail head by 6:30. This gave us about a half hour to get dressed, eat, brush our teeth, comb our hair and head out. Or, we could just roll over… but NO! A hike to Cape Split has been on our list for years and this was the perfect day to do it.
And what a perfect day it was. We joined Finn and Spiritfury along with jai06, fergus pals and the kool 66 and hike4familyfun teams, 13 in all, for a 15 kilometer, 6 hour and 17 minute adventure!
Cape Split is a thin peninsula that juts out into the Bay of Fundy like a giant fishhook. It is about 7kms (4 miles) long and from a couple of kilometers (2 miles) to a couple of dozen meters (90 feet) in width. The headland ends abruptly in 100 meter (300 foot) cliffs that offers spectacular (here we go again! :)) views. Across the Bay of Fundy and to the Northwest you can see Cape D' Or and to the Northeast, the town of Parrsboro.
The trail has been here for years and it was recently acquired by the Nova Scotia Government with plans on turning it into a provincial park. The hike in is on an uphill incline, starting at sea level and up to the headland. The main trail is a combination of gnarled tree roots, mud holes and slippery rocks (it's been described as "like 15 kilometers on a 'Stairmaster' :)) that courses through an old growth forest of huge hardwood and softwood trees, opening to a small field at the headland.
It took us about two hours to reach the headland. We made pretty good time considering that we stopped to rest and to find several caches along the way (of course!). On several occasions we were having so much fun chatting that we walked right by them and had to backtrack! Here are a couple of photos of the end of the cape: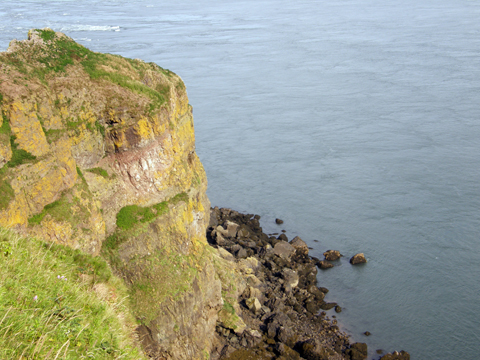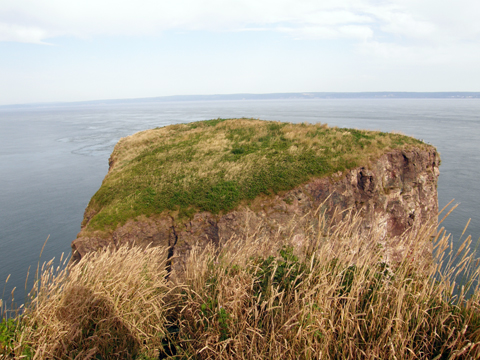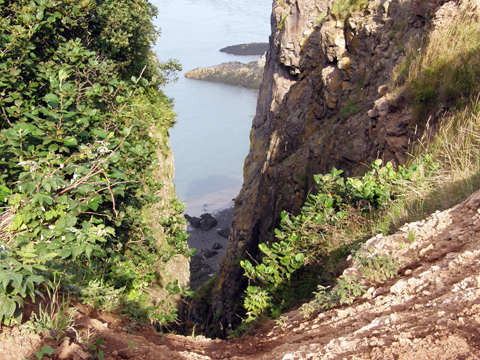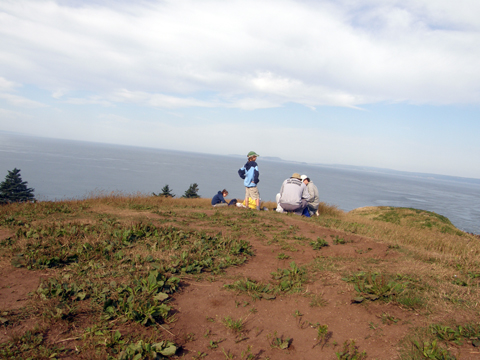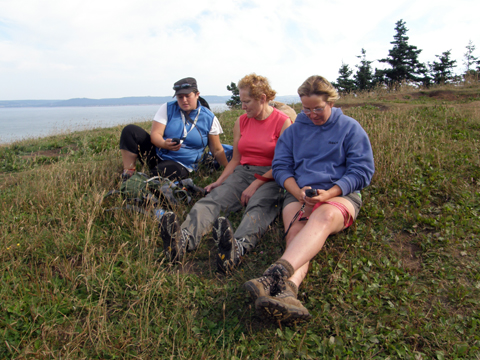 After resting for a while at the top and having a bite to eat we were ready for the return trip. It was decided that in order to pick up a couple of more caches it would be better to take a smaller trail on the West side of the cape, though this would involve a bit of bushwhacking, just a bit… :):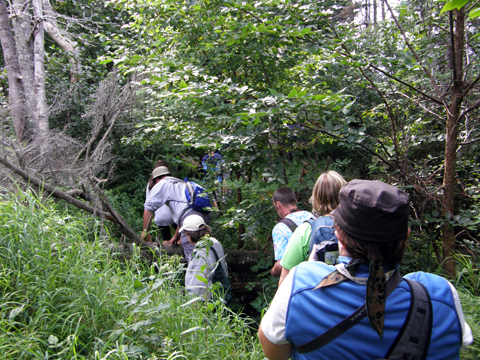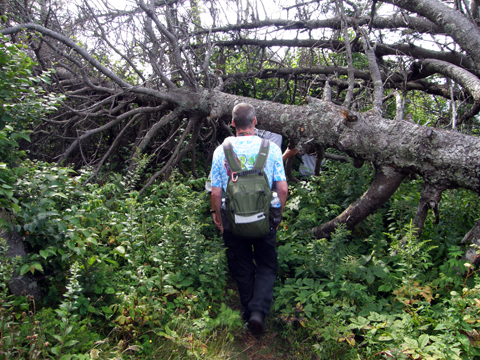 Mrs_go coined another new word while noting that this trail was not as 'pathier' as the main one. 🙂