A few weeks ago my buddy Phil took me up on an offer to visit my shop and we had a great day as he turned a Maple pen and pencil set!
Although Phil is a woodturner he hadn't turned a pen before. He was intrigued by the pen demo at the AWA meeting the week before so this day was the perfect opportunity for him to try a bit of hands on pen turning and a chance to 'try before he buys' some of the tools and accessories required and that are here in the shop.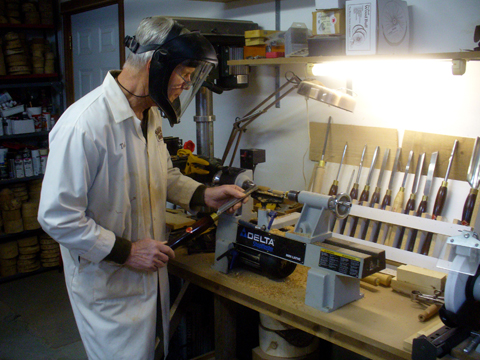 Phil arrived at the shop with several sizes and varieties of wood and after great deliberation 🙂 he chose a dark brown piece of Maple that was large enough to make a matching pen and pencil set.
The pen and pencil set is a gift for his godson. Here's a photo of the finished pen set that he turned: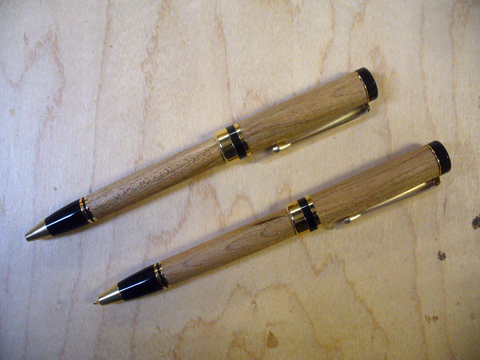 Although it took several hours to complete the pen the actual turning time was minimal. As you may have guessed, the day was spent with lots of 'tool talk', a tea break or two and a great lunch.
In addition to being a woodturner Phil is also an active woodworker and often combines the two. Check out the pedestal table on this page that he made a few months ago. In addition to making furniture he also does a lot of 'round-the-house' work and he has just finished building a kitchen island for his home.
It was truly a great day, another fantastic 'Talk and Turn'! Thanks, Phil, hope your grandson enjoys the pen and pencil. They look great!
Back to the shop…