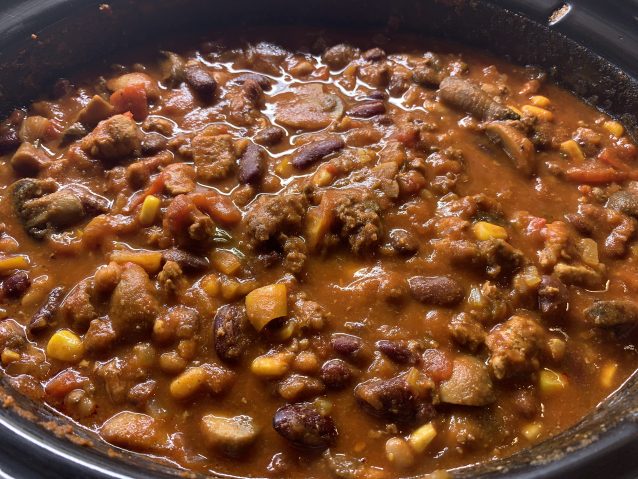 This chili recipe started with amounts to feed 50 people and used 3 large crock pots.  Since we liked the chili I reduced amounts and made a manageable size that will feed at least 6 hungry men.  It also freezes well.  The amount of heat will be determined by the type and amount of hot peppers that you add and also if you remove the seeds and ribs of the peppers.  I will leave that up to you.  We have also used a number of different beans which we grow and dry from our garden so feel free to put in the variety of beans you like.  We also serve our chili over brown rice.
Ingredients
1 cup dried kidney bean or 1-560ml can kidney beans
3/4 cup dried black beans or 1-560ml can black beans
2 lbs ground beef
5 mild Italian sausages
2 medium onions, diced
1 green pepper, diced
1 red pepper, diced
1 stalk of celery, diced
3-5 cloves of garlic, crushed
8 oz crimini mushrooms, sliced or diced
1-398ml can Alymer fire roasted tomatoes
1-796ml can of San Marzano tomatoes, diced
1-398ml can baked beans in tomato sauce
1 680ml can tomato sauce
1 cup frozen corn niblets
2 teas chili powder
1 1/2 teas cumin
1 1/2 teas coriander
1 teas paprika
1 teas smoked paprika
jalapeno or chipotle or cayenne or any other hot pepper you like
salt and pepper
1 cup fresh parsley, chopped
olive oil
brown sugar if needed but taste first
Directions
If using dried beans, soak separately overnight and cook until done.  Drain and set aside.  If using canned beans drain and rinse.  Put into a dutch oven or a slow cooker.
Brown the ground beef in a large frying pan.  Drain fat if necessary.  Add to dutch oven or slow cooker.
Brown the sausages whole in a frying pan.  The sausages do not to be cooked through as they will finish cooking when the chili simmers.  Slice into 1/2″ chunks and add to dutch oven or slow cooker
Saute the onions in the frying pan in olive oil until translucent.  Add the spices to the pan to bloom.  Be careful not to burn them.  Add the peppers, celery and mushrooms until they have lost their raw taste but are still firm.  Make a well in the centre of the frying pan and add the garlic, stirring for about 30 seconds.  Incorporate the garlic into the mixture.  Add to dutch oven or slow cooker.
Add the Fire Roasted tomatoes,  San Marzano tomatoes, baked beans in tomato sauce,tomato sauce, corn niblets and the salt and pepper to taste to the dutch oven or slow cooker.
If using a dutch oven simmer on the stove top or place in a 325 F oven for at least 2 hours, stirring to keep from sticking.
If using a slow cooker simmer for 4 hours. The slow cooker starts cold and I find it takes about and hour for it to produce a sustainable simmer.  Stir to prevent from sticking.
Taste and decide if the chili needs the brown sugar.  Add the parsley just before serving.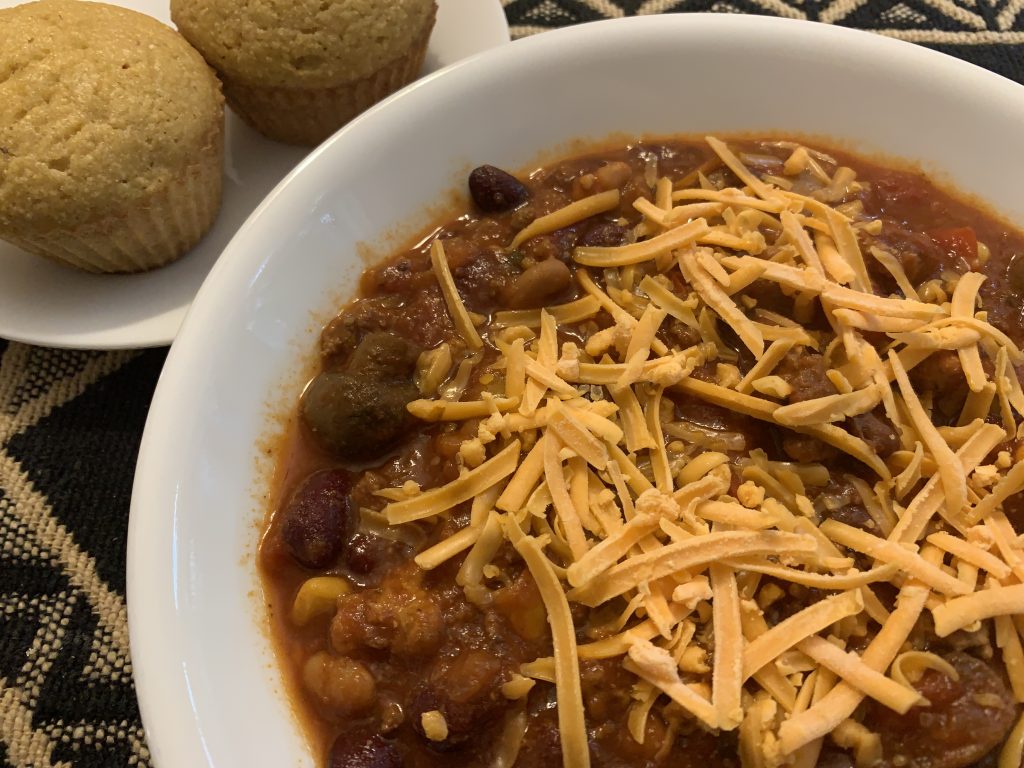 Print This Recipe