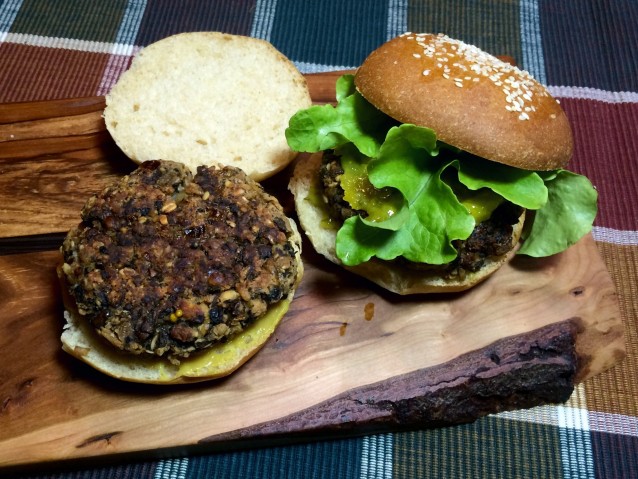 We have been experimenting with vegetable burgers for a couple of years now….some are too beanie, some are too mushy, some are way over seasoned and some just fall apart.  I started with a recipe from the internet by Barry C. Parsons.  I didn't change it much, so thanks Barry.  We like these burgers as they have good flavour and texture.
Ingredients
1 cup chickpeas, roughly mashed
5 cups chopped mushrooms
3 tbls olive oil, divided
2 cups onions, diced
1 teas chili powder
4 cloves garlic, crushed
1 cup large flake oatmeal, ground
1 tbls fresh thyme or 1 teas dried
1 1/2 cups cooked brown rice
1/2 cup rice flour
1 teas nutmeg, freshly ground if possible
1/2 teas pepper, freshly ground if possible
3 tbls soy sauce or tamari or Braggs or combination
cornmeal for dusting
Directions
Place the chickpeas in a large bowl and roughly mash.
Saute the chopped mushrooms in a large frying pan in 2tbls olive oil until the mushrooms have released most of their liquid.  Remove from the pan add to the chickpeas.
In the frying pan add 1 tbls olive oil and the onions and chili powder.  Saute until the onions are translucent then add the garlic and saute for about 30 seconds.
Put the large flake oats in a food processor and pulse until finely ground.  Add the onion/garlic mixture from the frying pan and the thyme, cooked brown rice, rice flour, nutmeg, pepper and soy sauce(or combo) to the food processor and pulse until combined.  Do not over process.  Add this mixture to the large bowl containing the chickpea/mushroom mixture and stir to combine.
Chill the mixture for a few hours or overnight.
Form into patties, dust with cornmeal and pan fry over low heat until browned.  Alternately you can freeze these burger patties before frying to have on hand for those nights you need a quick supper.
We serve these on a bun with homemade mustard cucumber relish (similar to hot dog relish) or on a plate with a salad or oven roasted potatoes.

Print This Recipe