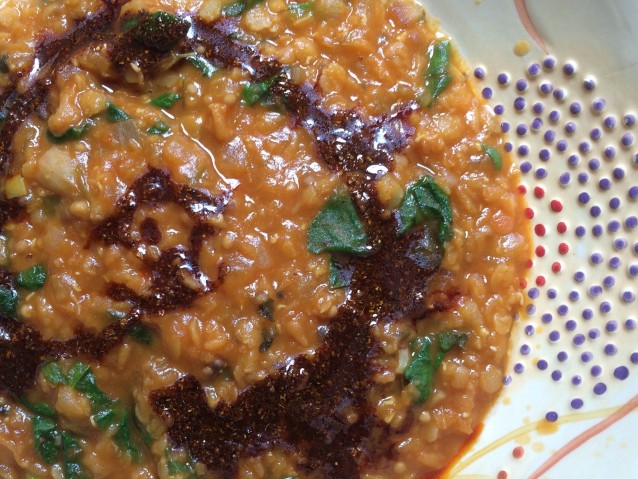 This is a favourite recipe in our house.  It is one of those recipes we always have the ingredients for and it comes together fast and is tasty and filling.  I have used fresh, frozen and canned tomatoes in this recipe.  Fenugreek seeds may be hard to find in a grocery store but your local Middle Eastern store will have them.  Vietnamese coriander is a herb that we grow in a pot on our patio all summer and then bring it in to over winter as a house plant.  We find it's flavour to be a bit citrus and a bit cilantro.  BTW-Fresh gingerroot is best kept in the fridge on a shelf with no covering.
Dhal
1 tbls olive oil
1 small white onion
1 teas yellow mustard seeds
2 cloves of garlic, crushed
8 fenugreek seeds
1 teas fresh grated gingerroot
1/2 teas salt
1/2 cup red lentils
1 tbls tomato paste
2 1/2 cups water
2 tomatoes, chopped
1 tbls fresh lemon juice
2 tbls fresh Vietnamese coriander or fresh cilantro
Drizzle
1 tbls olive oil
1/2 teas garam masala
1/2 teas chili powder
Directions
Heat the olive oil in a dutch oven or other large pot.  Add the onions and cook for 2-3 minutes.  Add the mustard seeds and cover the pan until the seeds begin to pop.
Remove the lid and add the garlic, fenugreek, ginger and salt.  Stir to combine.
Add the lentils, tomato paste and water.  Bring to a boil, reduce heat and simmer gently for 10 minutes.
Add the tomatoes, lemon juice and Vietnamese coriander or fresh cilantro and simmer for another 4-5 minutes.  At this point the lentils should be cooked and the liquid should have reduced to a slightly thicker consistency.  If not, simmer a couple minutes longer.
Put in soup bowls.
For the drizzle, heat the olive oil in a small pan and add the garam masala and chili powder.  Stir to combine and drizzle over the bowls of dhal.

Print This Recipe