Post Tagged with: "mushrooms"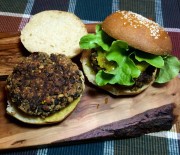 We have been experimenting with vegetable burgers for a couple of years now….some are too beanie, some are too mushy, some are way over seasoned and some just fall apart.  I started with a recipe […]
Serving Suggestions: Add to pasta sauces or your favourite barbeque sauce. The cooking time will depend on the size of the meatballs. Adjust spices to your liking.