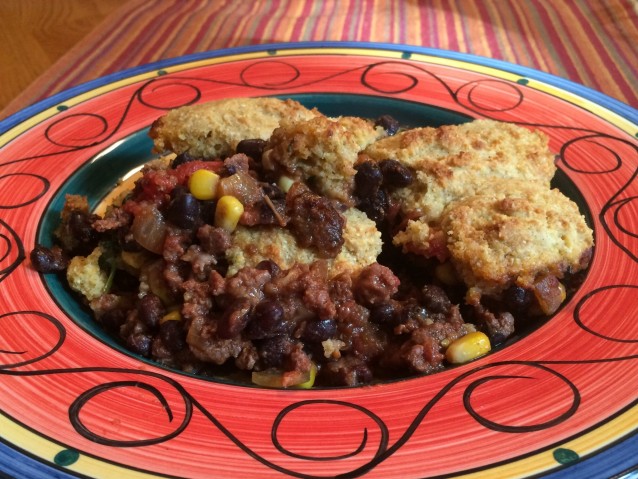 We love one pot meals.  The ingredients can be bought at the supermarket and kept at home for those nights that you need something quick and easy for supper.  We have made it with all varieties of cheese and it ends up with whatever beans we have on hand.  I have made a meatless version of this recipe called Southwest Skillet.
Ingredients
2 tbls olive oil
1 medium onion, diced
2 tbls chili powder
1/2 teas salt
2 medium cloves garlic, minced
1 pound ground meat(beef, chicken, pork, tofu)
15.5 oz can black beans, drained and rinsed
14.5 oz can tomatoes, diced and drained
2/3 cup frozen corn kernels
1 cup grated cheddar cheese
2 tbls cilantro leaves, minced
ground black pepper
Cornbread Topping
3/4 cup flour
3/4 cup yellow cornmeal
3 tbls sugar
3/4 teas baking powder
3/4 teas baking soda
3/4 teas salt
3/4 cup plain yogurt
1 large egg
3 tbls butter, melted and cooled
Directions
Heat oil in large oven safe skillet.
Add olive oil, onion, chili powder and 1/2 teas salt. Cook about 5 minutes.
Stir in garlic and cook about 30 seconds.
Stir in the ground meat, beans, corn and tomatoes and bring to a simmer, cooking about 5 minutes.
Stir in cheese and cilantro and season with salt and pepper to taste.
Make cornbread topping by combining the dry ingredients in a bowl. Whisk together the yogurt and egg and add to dry ingredients. Stir until combined and add the melted, cooled butter. Stir until just combined. Drop by spoonfuls over the meat, bean mixture and spread into an even layer.
Bake at 450F for 10-15minutes.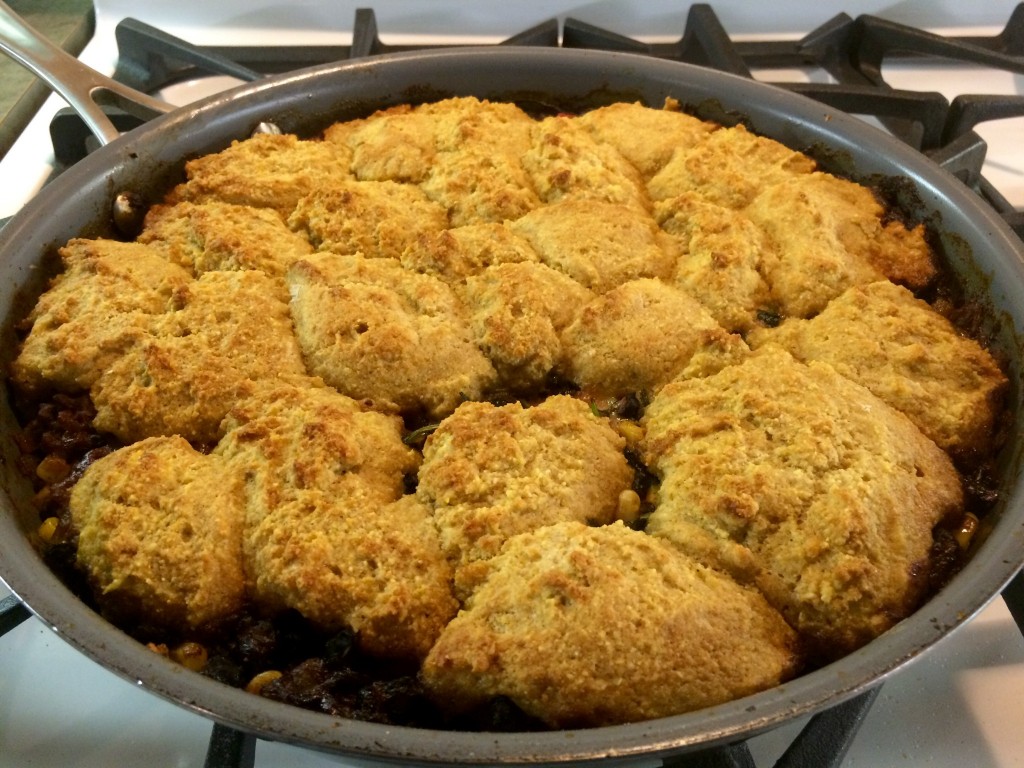 Print This Recipe