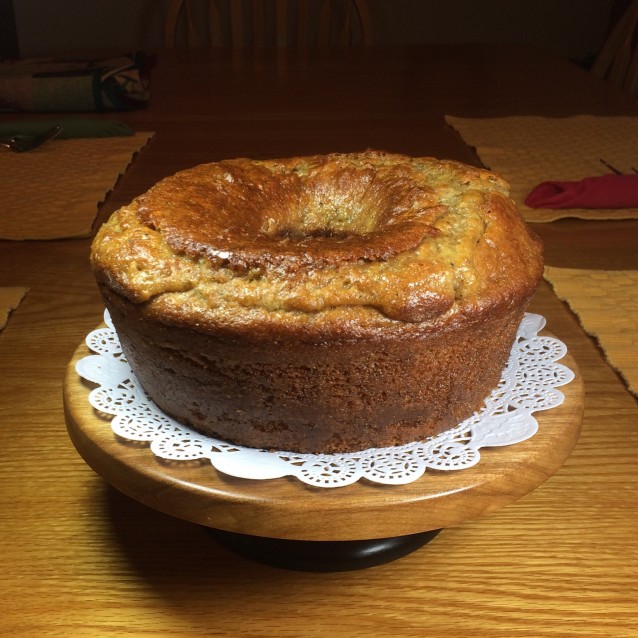 I plan this cake around the kiwi because in our part of the world the kiwi come home from the store as hard as rocks and do not ripen for a week or more.  The resulting moist cake is always worth the wait.  The lime icing sugar drizzle is a nice compliment to the flavours of the Pacific Rim.  The choice of flours was to please our daughter who has a gluten sensitivity.  If you don't have gluten free flours just use your regular all purpose flour and eliminate the xanthan gum.
Gluten-Free Mix
1 3/4 cup rice flour
1/2 cup potato starch
1/4 cup tapioca starch
Cake
2 1/2 cups gluten free mix
1 teas xanthan gum
1 1/2 cups sugar
1 1/2 teas baking soda
2 teas baking powder
1 teas salt
2 teas orange zest
1/2 teas nutmeg
1/2 teas cloves
3 tbls candied ginger, minced
3 eggs, beaten slightly
3/4 cup mayonnaise
1/3 cup milk of choice
4 ripe kiwi, peeled and mashed (about 1 1/3 cups)
1/2 cup almonds, toasted and chopped
Drizzle
1 cup icing sugar
3 tbls lime juice
Directions
Prepare a tube pan or bundt pan with cooking spray or butter and dust with rice flour.  If using a tube pan add parchment paper to the bottom of the pan as well.
Preheat oven 350 F.
In the bowl of a stand mixer combine the gluten free mix, xanthan gum, sugar, baking soda & powder, salt, orange zest, nutmeg and cloves and candied ginger.  Blend on low speed until combined.
In a medium bowl whisk together the eggs, mayonnaise, milk.  Add to the dry ingredients in the stand mixer.  Beat until well mixed.  This mixture will be thick.  Add the kiwi and beat until smooth.  Stir in nuts.
Bake for 50-55 minutes or until cake springs back when lightly pressed.  Let stand 5 minutes then remove from pan to a cooling rack.
Make the drizzle in a small pot heating only until warm and icing sugar has dissolved.
Pour over warm cake taking care to place a plate under the cooling rack to catch the run off.  Repeat the drizzle with the run off.
Notes: Rice flour comes in white and brown.  Either one will be fine.
Potato starch is NOT to be mistaken for potato flour.  This recipe uses potato starch.
Xanthan gum will help with the texture of the cake. It is pricey but may be available at Bulk Barn in smaller quantities.
If you have your own gluten free mix check the ingredients to see if they include xanthan gum and use that instead of the gluten free mix listed and the xanthan gum.
I usually do not have mayonnaise in my fridge so I use whatever I have on hand, like greek yogurt(1/2 cup) and olive oil(1/4 cup).
Always toast your nuts before you chop them…just makes things easier.

Print This Recipe