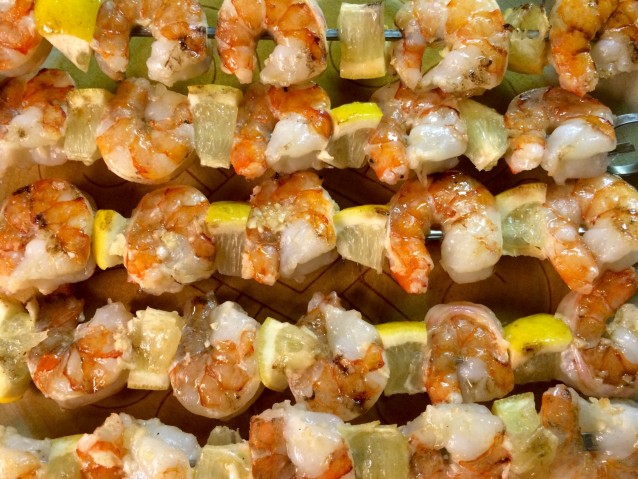 This recipe is so simple and so very tasty that I had to share it although I cannot take credit for it.  My niece, Kim, and her husband Richard made these for us while we were visiting the Morgans in PEI.
Ingredients
400 grams raw frozen shrimp, 41-60 count
4 lemons
4 cloves garlic, crushed
1/4 cup olive oil
metal skewers or wooden skewers soaked in water
Directions
Preheat the barbeque.
Thaw the shrimp in the fridge overnight.  Remove the shrimp shell from the body but leave the shell tail section on.
Cut the lemons in half lengthwise and then in 3-4 sections.  The lemons have to be left big enough to thread on the skewers.
Thread the shrimp and the lemons on skewers alternating 1 shrimp, 1 piece of lemon, 1 shrimp, 1 piece of lemon….and so on.
Combine the garlic and the olive oil. Brush on the shrimp and lemon skewers.
Place on the grill and cook until just done.  Shrimp is done as soon as it turns pink.

Print This Recipe