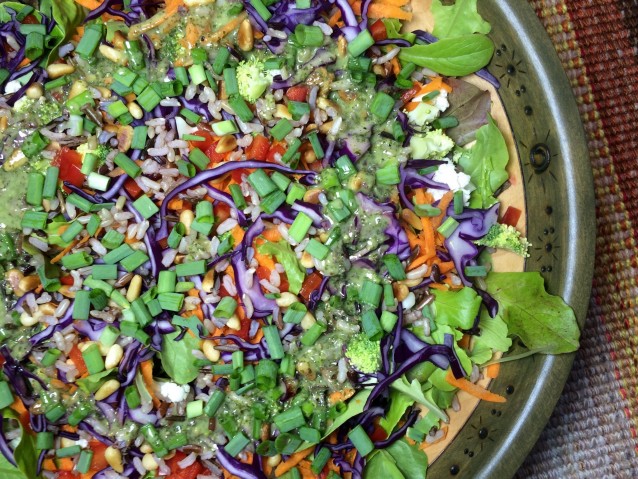 We like the flavours of the Southwest and nothing says "southwest" like Creamy Cilantro Dressing.  I never measure when making a salad.  The trick is to choose the right size salad bowl for the crowd you plan to feed  and then start adding the ingredients until the bowl is filled.  You can add more of the ingredients you really like and not so much of the other ingredients.  So, the amounts in this recipe are just a guide and eaten as a main dish with some bread on the side it will feed two.
Salad
1/2 cup wild rice blend
2 tbls pine nuts, roasted
4-6 cups of salad greens
1/4 cup red cabbage, finely sliced
1/2 cup cauliflower, florettes only
1/2 broccoli, florettes only
4 green stalks green onion, chopped
1 carrot, grated
1/4 cup red pepper, diced
cilantro to sprinkle on top
Dressing
1/2 cup mayonaisse or 1/4 cup olive oil & 3 tbls yogurt
1 tbls grainy dijon mustard
1/4 cup fresh cilantro
1/4 cup rice vinegar
1/4 teas freshly ground pepper
1 tbls honey
Directions
Cook rice blend according to package directions.  Set aside to cool.
Toast the pine nuts in a frying pan.  Watch them carefully as they can burn quickly.  Place on a plate to cool.
Make the dressing in a blender or food processor.  If using the oil/yogurt alternative put everything in the blender except the olive oil and process until smooth.  Add the oil through the hole in the lid with the motor running.
Add the salad greens to a pretty salad bowl then arrange the other ingredients on top.
Drizzle with the some of the dressing storing the remainder in the fridge.
Sprinkle more cilantro on top.
I have found that cilantro is one of those things you really like or really hate.  I have a girlfriend who compares the smell to dirty socks and a sister also finds the herb off-putting.  I would suggest an alternative for cilantro haters, try Vietnamese Coriander.  You won't find it in the grocery store but at a garden centre.  It grows "like a weed" out in a pot on my patio and comes in the house for the winter.  It has a mild lemon lime flavour with hints of mint and cilantro.

Print This Recipe