I went to the Moncton Wood Show in New Brunswick today. This show is one of a few that runs across Canada. Other locations include Kitchener-Waterloo, Ottawa and London. The show runs for 3 days, Friday, Saturday and Sunday and offers the latest woodworking tools and accessories as well as demos, displays, seminars, carvings, turnings and more.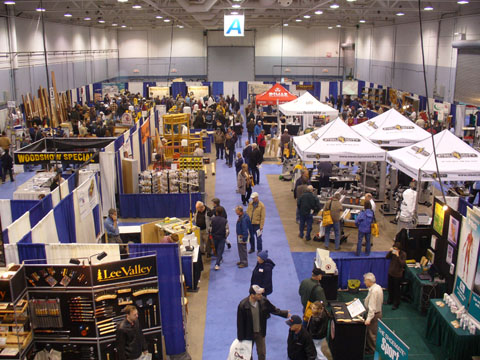 I didn't get a chance to sit in on any of the seminars this year but it looked like there was a good selection to choose from including router techniques, tuning up your bandsaw, hotrodding your table saw and finishing techniques.
The Moncton Wood Carvers Guild had a great display of their projects including relief carvings, duck decoy carvings and wood sculptures.
Speaking of carving, I met Anne and Keith Matheson from Carvers Coffee House, Studio and Pub in Pictou, Nova Scotia, Canada. I took a course from Keith a couple of years ago and created a wood spirit. They are the Pfeil dealer for Atlantic Canada.
Busy Bee Tools was there doing a fine business. One of the Nova Woodturning Members was doing daily woodturning demos which were well attended.
I spoke with Bill from William Wood-Write for a moment. This was their first time at this show and there seemed to be a lot of interest in their products. I've made several purchases from their online site and have been very pleased with their products an service.
I watched a demo of the Kreg router table system by Mark Eaton. Mark always puts on a good show that is both entertaining and informative. I was very impressed with this table.
Logosol and Woodmizer, a couple of milling systems, were on display with demonstrations.
I stopped by Dave Wooland's display and watched a demo of the Gorilla CNC product he was promoting. Dave owns The Saw Shop out of Ontario, Canada. They also manufacture the Redline Fence Systems.
One of tools I was looking forward to seeing this year was the GRR-Ripper from Microjig. This was their first time here as well. They were putting on a great demonstration as indicated by the lineup to the checkout. A pretty impressive 'pushstick' for your tablesaw and router. I picked one up today since they were the offering the handle bridge set free as a show special. I'll tell you more about this is a future post.
Jim Smith, a local woodturner, was there doing woodturning demonstrations as well as with a great display of his Christmas ornaments. Simply fantastic work.
With over 50 displays to view, and view again and again, it was a long day, but a great day. Woodworking shows are one of my favorite times. You get a chance to see a lot of suppliers under one roof and 'talk shop' with the reps and the other visitors. Of course, you always get to buy a new tool… or two…
Back to the shop…