Tonight's Nova Woodturner's Guild meeting was on maintaining your lathe and woodturner Don Moore gave us lots of tips!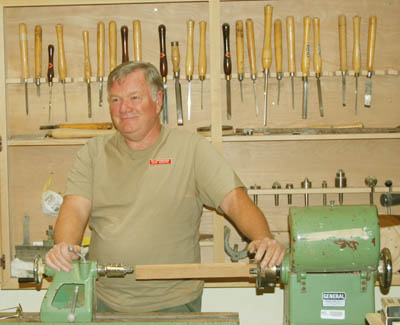 1. Use a silicon spray on the lathe ways for ease of banjo adjustment.
2. File your toolrest smooth with a file and then sand with a fine emery paper to ease tool movement.
3. Round the edges of the skew. This will help when rolling over the tool when making beads, etc.
4. Create collars out of pipe at varying popular lengths. Use these to quickly adjust the height of the toolrest by sliding one on the toolrest shaft.
5. Ensure that both your headstock and tailstock are aligned with each other.
6. Add a spacer between the chuck and the headstock for ease of removal. Use either a leather or brass ring as the spacer.
7. Use silica sand to deaden lathe vibration. Create and attach a box to your lathe for the sand so that the sand can move around. Do not use just bags of sand draped over the lathe legs.
Notice was made that there will be a NWG woodturning competition on January 08, 2008 at our local Lee Valley. There will be three levels of competition, beginner, intermediate and open.
There will be an a series of seminars and events surrounding this competition as well.
As always, it was a great meeting with knowledge gained.
Back to the shop…