I got tired of all the fiddling around trying to keep my pen blanks straight that I opted for the Self Centering Pen Drilling Vise from Lee Valley. I built a couple of jigs but none seemed to give me the accuracy and ease that I was looking for.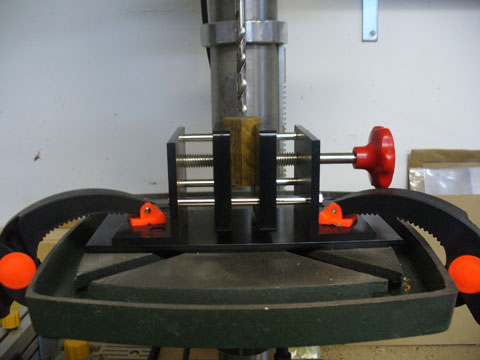 What I like about this jig is that once centered on the drill press it allows all sizes of squares and rounds, up to a maximum of 2-5/8″, to be centered for drilling. The V-shaped channels hold both round and square blanks. Therefore it can be used for other applications, ie: drilling dowels.
The centering is done by a screw mechanism that moves the jaws the same distance from center in either direction.
It is made from anodized aluminum and steel and the spindle has brass bushings for smooth operation.
I have found that it works great for both drilling the holes in the pen blanks for the brass cylinders and the milling of the pen blank ends.
I usually do a couple of pens at a time so this has really speeded up this part of the pen making process.
Back to the shop…