Over the past couple of weeks, and in between some minor shop renos, I've been able to finally get around to making the handles for the James Swan chisels that I bought on my tool run to Maine back in May.
The James Swan Tool Company in Seymour, Connecticut made augers, awls, bits, chisels, drawing knives, handles and screwdrivers from 1877 to 1951 and was the last important manufacturer of high quality edge tools in the United States.
Skip Brack, curator for Davistown Museum, recently came across and was able to obtain the remaining inventory of the Swan Tool company, many in their original wrapping and boxes.
On my visit to Liberty Tools and the Hulls Cove Tool Barn I was able to acquire 11 of these tools. Here's some closeups of them:

Here's the 1 1/2″, 1″ and 1/2″ chisels: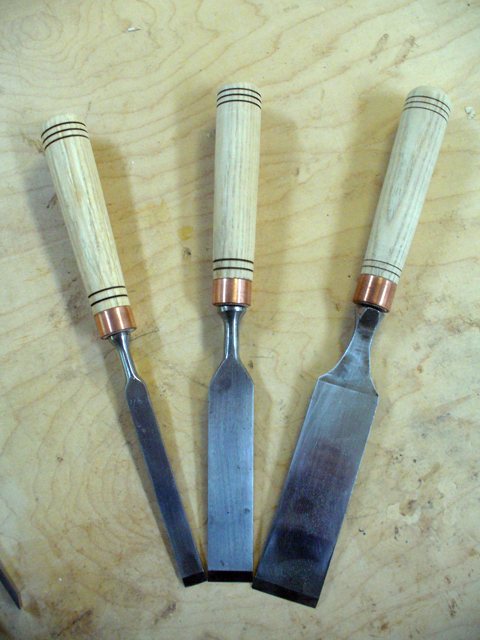 Here's the 7/16″, 3/8″ and 1/4″ chisels: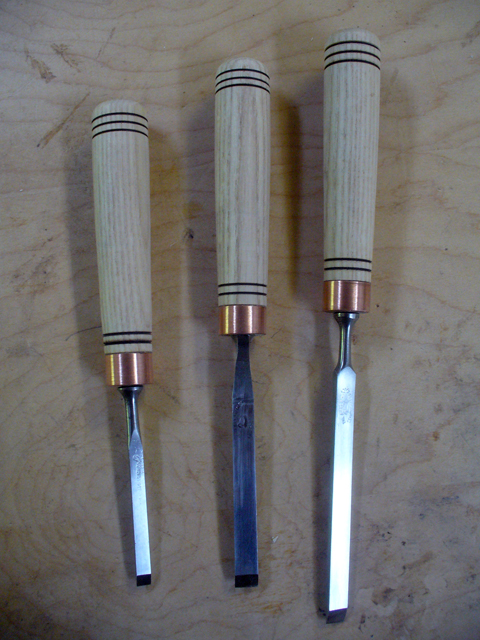 Here's another 1/4″ chisel, a 3/16″ mortising chisel and a 3/8″ gouge chisel: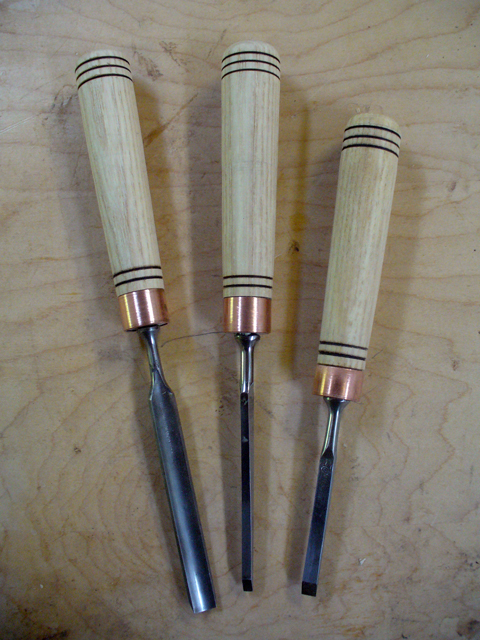 Here's the 3/4″ diamond parting tool and the 5/8″ 'continental style' turning gouge: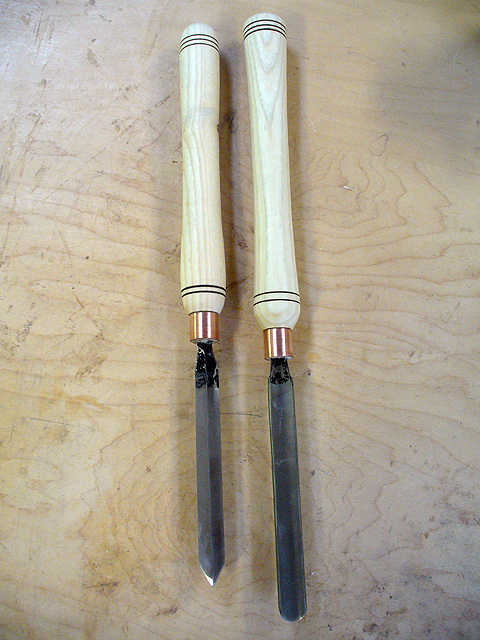 The chisels were all of the 'tanged' end variety and I fit them into Ash handles. The handles are all about 5 1/2″ long and 1 1/8 round at their thickest point and tapered to about 7/8″. I left them unfinished but added a bit of wire burn rings for accent. The handles for the pair of woodturning tools are just over 12″ long and about 1 1/2″ at their thickest. The ferrules on all the chisels were made from 3/4″ copper pipe.
Here's the chisels before the handles were made and fitted: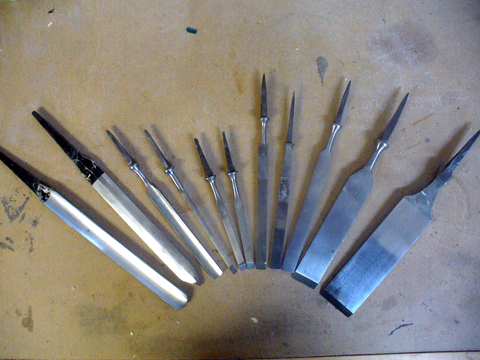 You can find out more about the James Swan Tool Company at the Davistown Museum's James Swan Tool Company biography and more about the tools in the 1911 James Swan Tool Company Premium Mechanics Tool catalog.
The history behind these tools and their quality certainly make them a welcomed addition to my shop. Unfortunately I wasn't able to find a 3/4″ chisel to complete my set but I'll be keeping my eyes open for one on my next 'rust run'! 🙂
Back to the shop…