This vessel is 5 1/4″ tall and 4 1/2″ in diameter at it's widest and 3 1/3″ at base. The Maple is very spalted, though solid, and has a variety of brown hues throughout that lends itself to a very unique piece.
The shape is reminiscent of a jug or an old milk can and it is accented with a bit of leather lace and beads.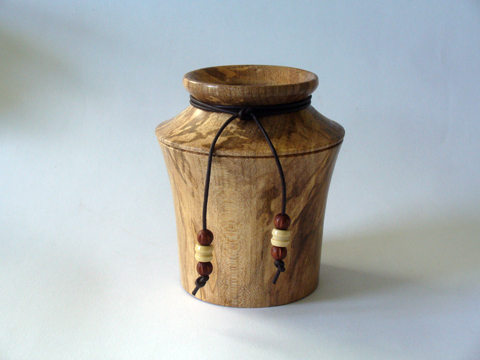 After finishing the jug I wasn't all that keen on the shape. It sat around for a while as I tried different additions to it like adding a raffia collar. I even turned a lid for it! Then the simple addition of the beads really made a difference. I now find the shape quite pleasing.
It is made from the same 'Old Man' Maple tree as the Maple Vase I did a couple of months ago.
Here are a few more photos showing the beautiful, and the very different, spalting: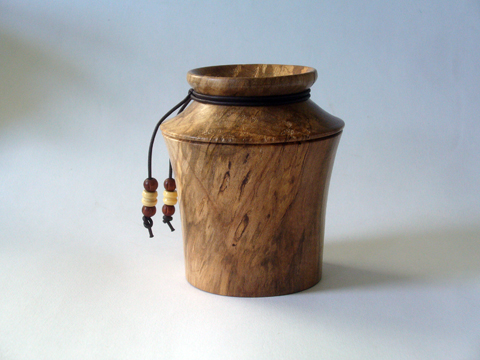 And here's a view of the top: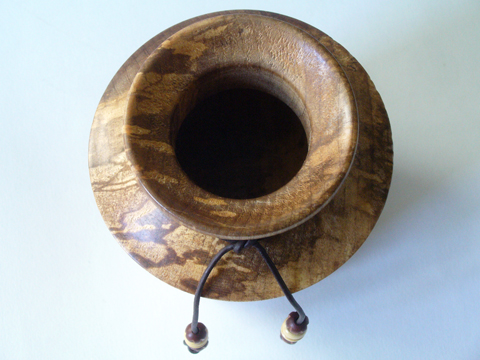 This piece, like the Maple Vase, will go off to a family member… a little piece of memory.
Back to the shop…