Wow! There were so many fantastic examples of great woodturning at the Nova Woodturner's Guild meeting last night that it was like a gallery of fine art! It was a show, show, Show And Tell!
Tonight's meeting was both the Fun Turn contest and 2009 Woodturning Competition followup.
Members who participated in the Fun Turn brought in their pieces to show and to give a short description of the piece. There were almost 20 pieces entered into the contest, each one unique, from 'sculptures' to the traditional.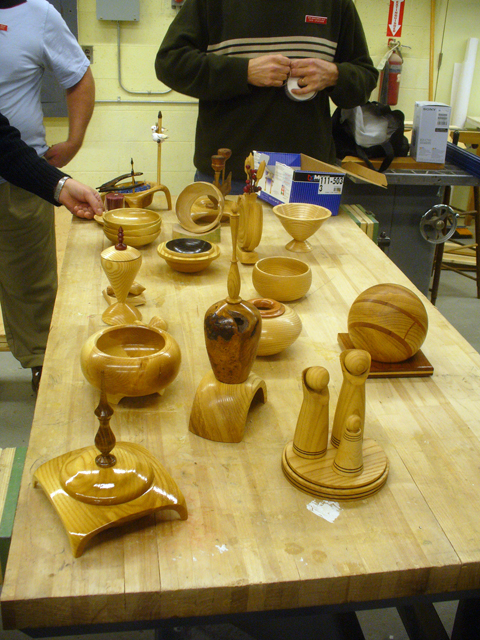 The challenge for this contest was to turn an item, or items, out of a 6″ X 6″ X 3″ piece of Ash. It was amazing that although each member started with the same block of wood each piece was different – a true test for those studying woodturner psychology! 🙂
Each member that entered the contest was eligible for the grand prize of a Sorby Wobble Chuck (which we saw demonstrated last week at the Sorby Tool Demo). Don Moore was the lucky winner of the random draw. (Gee, does this guy win everything?! :)) Congrats, Don, on a great win!
Here are a couple of more photos showing a closer view of the pieces that were entered: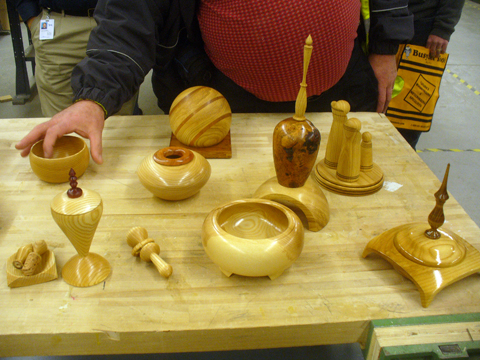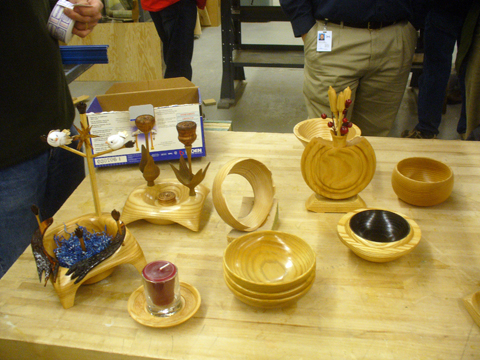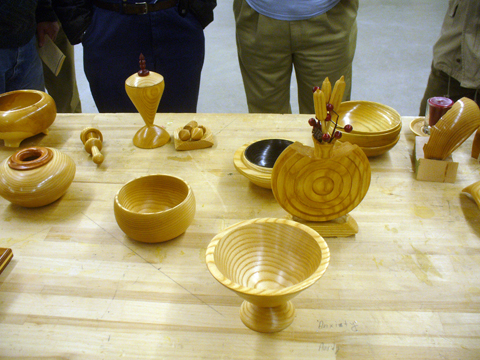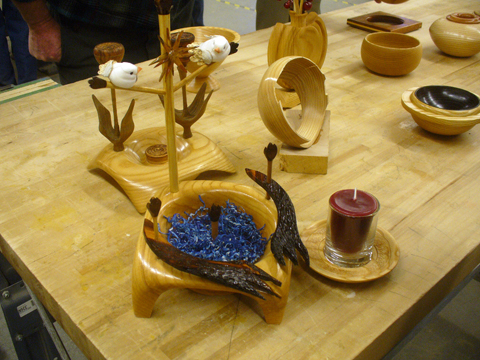 In addition to the Fun Turn Contest Show and Tell the members who placed in the 2009 Woodturning Competition brought in their winning pieces and gave extensive insight into the creation of their pieces. Hearing about the process that each member went through, especially the challenges they met and overcame, was quite an eye-opener. I believe 'woodturning' is somewhat of a misnomer as more work is often involved in the 'process of creation' as to the actual wood turning. Likewise, we sometimes fail to appreciate the hard work and time that goes into the creation of a piece, even our own. Some of these 'stories' solidified this thought. Though presented with lots of humor it was great to be reminded of the thrills and hard work involved.
Here are a few photos of these great pieces: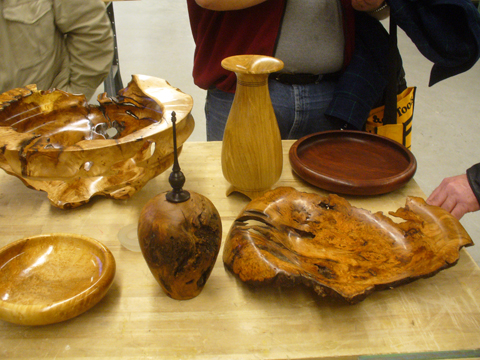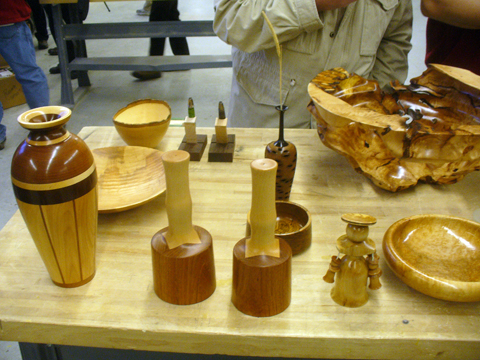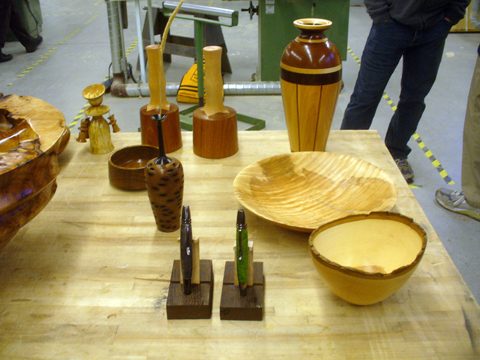 There was also an opportunity tonight to purchase some fine looking exotic woods from Landry's Woodworking. Rene Landry was on hand and he brought in a wide variety of wood that included Snakewood, Ebony, Cocobolo and Amboyna Burl. Sizes varied from pen blanks to 3′-4′ pieces. You can see some of it here: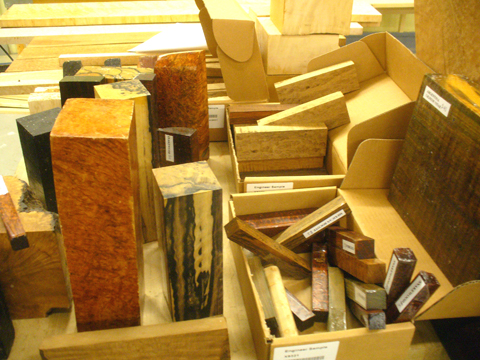 And speaking of wood, the evening was made complete with a raffle of several donated pieces of Maple. Three of the 36 members that attended the meeting happily went home with their winning. (Don wasn't allowed to participate in this one. 🙂 )
As always, this was an excellent meeting that showed the camaraderie, the talent and the supporting atmosphere that the Nova Woodturner's Guild offers. Thanks for a great time!
Back to the shop…