In the hope of spurring a reappraisal of repair, Platform21 wrote and published a repair manifesto describing the benefits of fixing things and calling upon designers and consumers to break the chain of throwaway thinking.
Throwaway thinking, a culture in itself almost, is designed to cater to short term needs of both industry, politics and society. But by being very successful at short term effects it has lost track of the innumerable and rich possibilities that lie ahead if durable notions of design in general, and repair especially, are reconsidered and implemented.
Though now closed down, Platform 21's 'Repair Manifesto' lives on.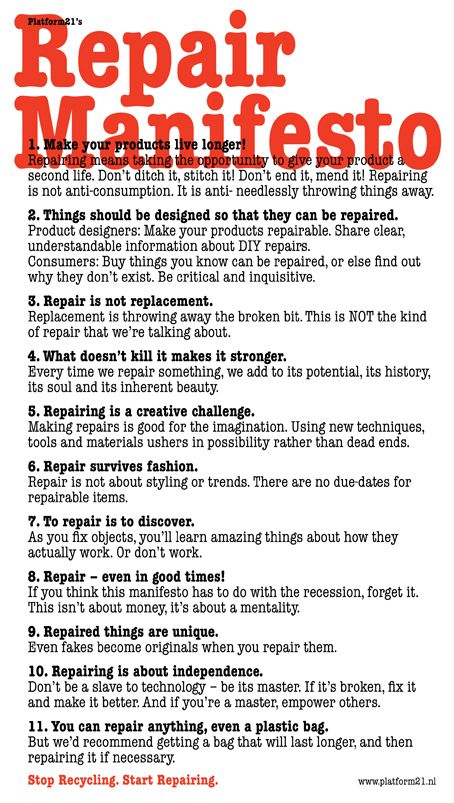 Platform21 was a design platform aiming to positively influence the relationship between user and product.
Through their projects they questioned today's society, connected amateur and professional creativity, revealed the making process, and stimulated dialogue and the sharing of creative knowledge. They believe that showing and sharing the process of creation is a powerful way to engage a broad audience in divers aspects of design.
Their project, 'Platform21 = Repairing' started with the idea that repair is underestimated as a creative, cultural and economic force. If we don't consider repair a contemporary activity we will lose an incredibly rich body of knowledge – one that contributes to human independence and pleasure. The situation is especially puzzling when you consider current global interest in other ideas related to sustainability, such as recycling and the cradle-to-cradle philosophy.
You can find more here on their website: http://www.platform21.nl
Recycle, Reuse, Repair!
Back to the shop…