No bolts or screws, just wood and glues! The SplinterBike, a 100% wooden bicycle, is a world speed record holder!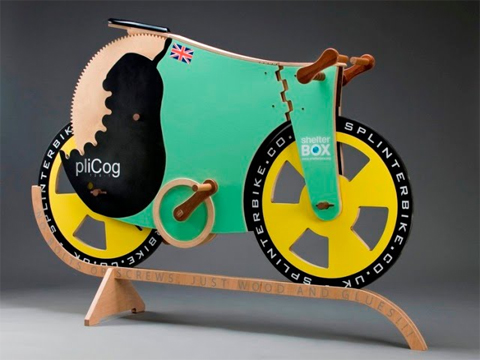 The SplinterBike project came about after a casual bet between friends, Michael Thompson and James Tully, turned serious. The challenge was to design and build a 100% wooden bicycle. Read that again – one hundred percent wood! That means no bolts, no screws, no metal of any kind, just wood and glue. What developed was the SplinterBike, an innovative, new type of human powered vehicle – the Plicycle.
It took Michael around 1000 hours to design and construct the SplinterBike using wood such Lignum Vitae, a naturally self lubricating hardwood, which is included for bushings and bearings to minimize friction. The chain on a traditional bike has been replaced by connecting the power from the pedals to the rear wheel by the simple addition of a gear cog (pliCog).
Here are some more photos: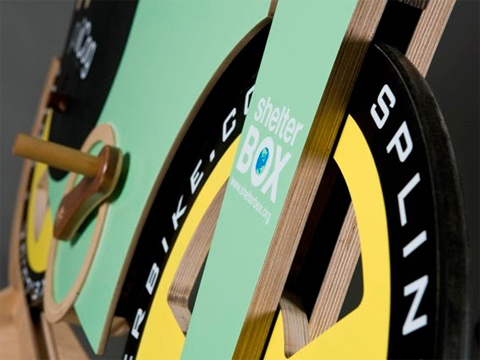 Here's a video telling their story:
Michael says, "Just because the things around us are as they are, doesn't mean they have to stay that way. Alternatives can be designed for everything we use day to day and take for granted. We don't have to reinvent the wheel but it's interesting to try."
On August 18th, 2011 James, who is an accomplished triathlete, drove the SplinterBike to a
World Speed Record for 100% Wooden Bicycles with a speed of 18.11kph (11.25mph)!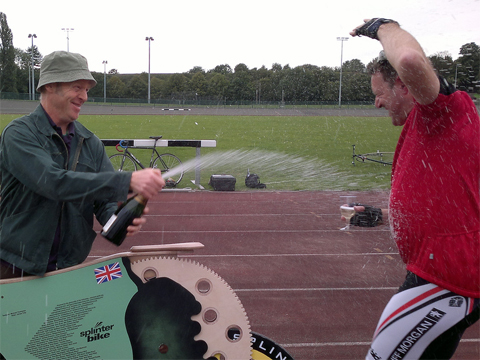 There are more photos of this record setting day here.
As you may have guessed, because of this gruelling wear and tear of this attempt the SplinterBike ultimately suffered and limped into the pits, but the story doesn't end here.
Building the 3rd incarnation of the SplinterBike, SplinterBikeThree, commenced in January 2012 and their sights are now set on the Hour Record for 100% Wooden Bicycles. The bike will need to last for 60 consecutive minutes without the rider, James Tully again, putting his feet down! The total distance covered will set the new record.
Sunday, June 24, 2012 is the date set for this challenge. Stay tuned!
You can find out lots more and keep up to date on the SplinterBike project here: http://www.splinterbike.co.uk.
Here at Woodworkers Guide we fell in love with this project as soon as we saw it. The fact that a bicycle can be made entirely out of wood is, as Michael says, "…a testament to the versatility and strength of one of mankind's oldest available materials…". The fact that records are being set is clearly the icing on the cake. We are happy to sponsor this project and wish Michael and James the best of luck in their upcoming record setting attempt!
If you are also interested in sponsoring the project, with the bonus of having your name, website Url or company logo on SplinterBikeThree please go to http://www.splinterbike.co.uk/Sponsor-Us.
Back to the shop…